Our Primary Care Specialists in Orlando
Dr. Dangiolo is a board-certified family physician with subspecialty certification in geriatric medicine. As a bilingual doctor, she has dedicated part of her career to…
Read More
Dr. Virgil Dawson is board certified in family medicine and sees patients age 16 and up. Prior to joining UCF Health, he owned and practiced…
Read More
Dr. Yanisa Del Toro is a board-certified Internal Medicine specialist who combines her passion for patient-centered care with expertise in educating the next generation of…
Read More
Dr. Joyce Paulson is board certified in Internal Medicine. She also earned the American Board of Obesity Medicine (ABOM) diplomate credential and is an expert…
Read More
Biography Dr. Ariel Mejia is a board-certified Internal Medicine specialist who helps patients manage their illnesses with a treatment approach that is meaningful, cost-effective and…
Read More
Languages Spoken
English
Portuguese
Spanish
Dr. Naziha Slimani is a primary care specialist board certified in internal medicine. She is familiar with the diagnosis and treatment of a variety of…
Read More
Dr. Pierce Trumbo is a board-certified general internist with interests in medical education, public health, and quality improvement efforts. Education Dr. Trumbo graduated cum laude…
Read More
Biography Dr. Gavin Van Staden is a board-certified family medicine specialist who enjoys personalizing medical care based on each patient's needs in acute, chronic and…
Read More
Dr. Sharon Wasserstrom is board certified in Internal Medicine and Lifestyle Medicine. She is uniquely skilled in providing tailored lifestyle management that helps prevent, improve…
Read More
Your primary care physician serves as the trusted doctor for you and your family. You'll see your primary care physician for general care, including diagnoses, treatments, regular check-ups, exams, and screenings. You'll also visit your primary care doctor for referrals to specialists who have extensive training in the area of your health concern.
At UCF Health, our physicians treat each patient with personalized care. We don't believe in a single approach toward all patients, because every person has different needs and a unique medical history. We create individualized treatment plans that help manage existing health conditions, minimize risk factors to prevent diseases, and improve our patients' lives.
Our physicians cultivate a comfortable and trusting environment for you and your family to express your concerns and receive the quality solutions you deserve.
Exceptional Care for the Entire Family
Primary Care for Adolescents and Adults
Our Orlando family physicians provide a wide range of screenings, treatments, and preventative care for our adult and adolescent patients. We create customized treatment plans to prevent diseases, monitor existing conditions, and treat urgent care needs.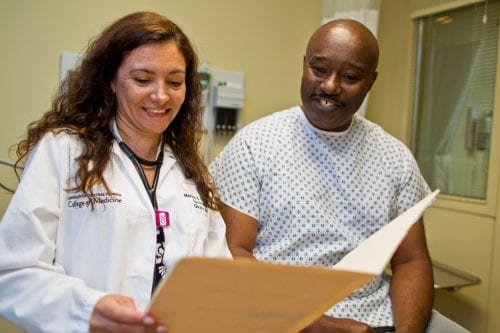 We offer expert lifestyle medicine services, Orlando internal medicine care, transgender health care, and care with our family medicine specialists to improve our patients' quality of life through healthy lifestyle choices and preventative care.
Primary Care for Seniors
An important part of our Primary Care UCF Health Services is geriatric medicine. Our geriatricians in Orlando provide comprehensive care for our senior patients, including necessary screenings, monitoring of existing health conditions, evaluations of memory and prescribed medications, and care for their overall wellbeing.
Our Orlando primary care physicians treat patients with the utmost respect, and they support our senior patients by creating fall-prevention strategies, emergency assistance plans, and providing guidance for assisted living options.
Visiting a primary care physician regularly enables you to build a trusted relationship with your doctor. A doctor who has treated and monitored you for years understands your lifestyle, your preferences, and your needs.
The more comfortable you are with your doctor, the greater quality of care you'll receive. When you're comfortable expressing your concerns with transparency, your doctor is able to consider the full picture when diagnosing conditions, treating conditions, or referring you to a specialist.
Your primary care physician has a thorough understanding of your medical history, which aids them in detecting early signs and symptoms of diseases, based on changes in your health.
If you or a family member has a chronic disease and requires regular check-ups or tests, you can visit your primary care physician and he or she will know the right questions to ask and the specific concerns to address to treat you effectively, efficiently, and thoroughly.
For any of your health concerns, you can feel comfortable reaching out to your primary care physician. Treatment and routine care through your Orlando primary care physician are convenient and easily accessible.
When to Visit Your Primary Care Provider
Visiting your primary care physician regularly will help you to mitigate risk factors that cause various diseases, and to maintain optimal health for years to come. You may also choose to see one of our experienced and qualified Nurse Practitioners who work alongside our doctors as part of the care team at UCF Health.
Reach out to your Orlando primary care provider if you need any of the following health care services:
Routine checkups and health screenings
Referrals to specialists
Flu shots and other vaccinations
Preventative care
Healthy lifestyle changes
Minor injuries or illnesses
Management of chronic health conditions
Finding the Best Primary Care Physician
When searching for the best primary care physician for you, it's important that you consider the doctor's credentials, education, and past experience to ensure that they'll provide you with the highest level of care.
Board-Certified
Physicians who are board-certified are dedicated to learning and adopting the latest technologies and advancements in primary care. To earn a board-certification, a physician has to take their education and experience a step further than a physician who is simply licensed.
These accredited physicians take it upon themselves to complete assessments, training, and continued education that are not necessarily required to practice medicine.
Board-certified physicians strive to provide a superior patient experience, and they hold themselves to the highest standard.
Extensive Experience
Physicians who have considerable experience providing primary care services are better suited to treat you and your family. Experienced physicians have dealt with a wide range of health conditions similar to the one you may be experiencing.
Experienced physicians have a vast knowledge-base of solutions, approaches and answers to your questions and concerns.
At UCF Health, we value the genuine relationships we build with our patients. We will help you find the best primary care doctor for you, because we go above and beyond to ensure your comfort, your satisfaction, your convenience—and your health.
Our Orlando physicians are here to serve you with quality, expert care. Their high level of experience and skill makes them the qualified providers you and your family deserve. No matter your health concern, you can rest assured that we have the right doctor for you.
Through our convenient patient portal, you can communicate with your primary care physician, view your lab results, view statements, and manage your prescriptions.
Practicing Locations
UCF Health offers primary and specialty care at its East Orlando location at University and Quadrangle Blvd. Near the main UCF campus.

UCF Health East Orlando

Address

3400 Quadrangle Blvd, Orlando, FL 32817
* UCF Health is located in first-floor Suite 160 & third-floor Suite 360

UCF Health Lake Nona

Address

9975 Tavistock Lakes Blvd, Orlando, FL 32827
Reviews