Nurse Practitioners vs. Doctors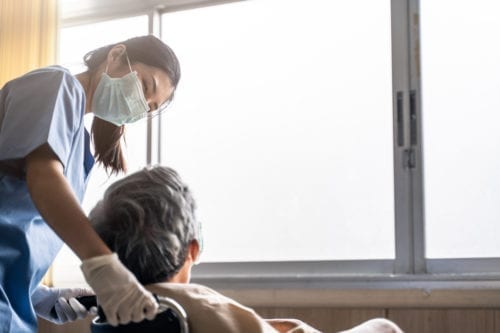 Medical professionals have vast and varied training that prepares them to handle, diagnose, and cure many ailments, diseases, and physical issues. From lab technicians to neurosurgeons, each performs a specific and vital role in our country's health care system.
Nurse practitioners and doctors are fixtures during routine checkups, hospital visits, and out-patient procedures. However, a primary care physician is formally trained in diagnosing and treating diseases whereas nurse practitioners are formally trained in caring for patients by way of diagnosing and treating many common issues.
While the roles may seem interchangeable to a patient, each performs different duties and undergoes a rigorous training specific to their position.
What are the major differences between a primary care doctor and a nurse practitioner?
Nurse Practitioners are highly educated and begin their academic pursuits by first earning a bachelor's degree in nursing. In order to become an NP, they must then attend a nationally-accredited nurse practitioner graduate program.
Some NPs choose to go straight into their career after this but many continue down an academic path, eventually gaining a doctorate in nursing practices (DNP). Depending on the course of study, it takes approximately six to eight years of post-secondary education to become a nurse practitioner.
Doctors, on the other hand, are required to earn a four-year degree in a pre-med discipline before continuing on to medical school and then a residency. Physicians typically specialize in a field like internal medicine, endocrinology, gastroenterology, rheumatology, and the like.
Both are exceptionally skilled in the medical field but hone their craft through differing educational pursuits.
What are the benefits of seeing a primary care doctor?
A primary care doctor can assist patients in numerous ways, including diagnosing diseases, long-term treatment, the analysis of medical history, or preventative care measures. By establishing a relationship with your primary care physician through examinations and routine check-ups, your doctor can better monitor ongoing health issues or help prevent any from arising.
The training that primary care physicians receive during their postgraduate residency can take three or more years and impart invaluable knowledge. Residents receive hands-on training under the supervision of knowledgeable, well-practiced doctors that also specialize in a particular field of study.
It's necessary to visit a primary care doctor for persistent illnesses or for close monitoring of a pre-existing condition. While a nurse practitioner can handle these issues, your primary care doctor may be more adept at analyzing your entire medical history to troubleshoot issues and create a treatment plan. 
Primary care doctors are licensed through the Medical Doctor's Board and Nurse Practitioners are licensed through the Nursing Board. Doctor's are required to attain 20,000 hours of clinical experience while DNP's need 1,000 – giving your primary care doctor a higher chance of exposure to rare illnesses, one-off diagnoses, and a diverse array of health conditions simply because he or she has spent more time in a clinic or hospital. If you are having trouble getting answers or receiving a diagnosis for troublesome symptoms, it may be necessary to visit a primary care doctor.
What are the benefits of seeing a nurse practitioner?
While it can be tempting to want care from someone with the title "Doctor", nurse practitioners are equally skilled and knowledgeable in their field. Nurse practitioners are typically not as booked as doctors, and can fit patients in sooner, providing relief without long delays or wait times.
Nurse practitioners see a variety of patients, meaning that their knowledge and experiences are varied and may be better suited to creating preventative care plans. Their role is to help patients feel comfortable, healthy, and looked after throughout any sort of medical procedure or exam – routine or otherwise.
NPs are sometimes referred to as Advanced Practice Registered Nurses (APRN) because of their extensive background and practice in taking care of patients at their bedsides, be it at a hospital, clinic, home, or surgery center. However, it's important to note that a nurse practitioner is a type of advanced practice registered nurse.
A nurse practitioner is a fantastic addition to a care team and acts as a complement to your primary care doctor. NP's can take care of the following medical needs:
yearly check-ups
routine screenings
vaccinations
diagnosing seasonal illnesses
treatment of sore throat, allergies, or the flu
During the global COVID-19 pandemic, nurse practitioners are providing exceptionally valuable services by alleviating the load on physicians, surgeons, and emergency rooms. They can offer COVID-19 testing and diagnosis of symptoms.
Nurse practitioners can prescribe medicine, conduct cancer screenings, diagnose illnesses, and recommend patients to specialists. NP's and doctors perform similar day-to-day tasks and typically work in a clinical setting. Only one-third work in a hospital setting while an even smaller percentage work in academia, nonprofits, or other community organizations.
In many states, nurse practitioners conduct their care under the umbrella of a licensed primary care physician. They rely on the supervision, expertise, and involvement of a doctor but still conduct the same medican tasks and exams as their supervising physicians. At UCF Health, all of our experienced nurse practitioners partner with well-equipped physicians to provide superior medical care to incoming patients.
Difference between a Physician Assistant and Nurse Practitioner
While NPs and PAs often compete for the same position, both provide different services to patients. A physician assistant has a more extensive background in a specialized practice and has learned through a medical model instead of a nursing model. In addition, physician assistants often have a greater role in patient care during pre-op and post-op. PAs are required to undergo 2,000 hours of clinical training – 1,000 more than that of NPs.
Nurse practitioners can often act as the bridge between patients and their care providers or between medical professionals. They serve as an intermediary between a registered nurse and a physician. NPs can also provide the go-between for a physician assistant and a patient, helping the patient better understand a medical process, diagnosis, or care plan.
Collaboration is Key
As medicine becomes more complex, it's crucial to implement the advice and expertise of a healthcare team, instead of just one individual. Nurse practitioners and doctors work hand in hand in office and hospital settings to provide a total care plan. They help each other by providing different pieces to complete the complex puzzle that is modern medicine.
In many situations, a nurse practitioner will take an initial patient visit. They will take time in listening to patient's symptoms or health care concerns, discuss medical history, consider potential treatments that the patient feels comfortable with, and then present all the information to a supervising physician. Together, both experts can create the best possible plan to get the patient back on the right track.
Experience is Vital
It's important to note that a nurse practitioner who has been working in the medical field for thirty years may be better equipped to handle your particular condition than a doctor that is fresh off his or her residency.
Like anything, both individuals will have differing backgrounds, training, and patient experiences that may or may not make them the best possible person to handle your particular health situation. For tricky diagnoses, consult with both your nurse practitioner and your primary care physician.
The U.S. is facing a shortage of primary care physicians, meaning that access to a doctor will continue to be difficult to get. Establishing a relationship with an experienced nurse practitioner can definitely benefit you in the long-run.
How do you know which you should go to?
Oftentimes, patients can get in to see a nurse practitioner quicker than they can a senior primary care doctor. For issues that need urgent attention, book an appointment with an NP or go to an urgent care, instead of a doctor. 
In addition, many established primary care doctors take time off around the holidays or school breaks, meaning that patients must wait months until the doctor is back in. A nurse practitioner can still prescribe your medicine, monitor preexisting conditions, or diagnose illness while the doctor is out.
For experimental treatment or an unclear diagnosis, it's advisable to visit with a physician. Toxic treatments, like the administration of chemotherapy, also should be supervised by a physician who specializes in that field. Nurse practitioner visits can be less costly than a routine trip to the doctor and insurance coverage may vary depending on your provider.
Nurse practitioners cannot independently perform surgical procedures and those requiring any sort of invasive treatment should consult with their primary care physician.
UCF Health employs experienced nurse practitioners and Orlando family physicians that provide invaluable expertise to your medical care team. Through collaboration, establishing a positive rapport, and routine checkups, nurse practitioners and doctors can assist in keeping you healthy and happy. UCF Health services are robust and include a variety of treatment options. To schedule an appointment with a knowledgeable nurse practitioner or doctor, visit our patient portal.