Our Family Physicians in Orlando
Dr. Dangiolo is a board-certified family physician with subspecialty certification in geriatric medicine. As a bilingual doctor, she has dedicated part of her career to…
Read More
Dr. Virgil Dawson is board certified in family medicine and sees patients age 16 and up. Prior to joining UCF Health, he owned and practiced…
Read More
Jerilyn Summers is a licensed APRN with expertise in family medicine. As a nurse practitioner with graduate school training, she provides outstanding primary care and…
Read More
Biography Dr. Gavin Van Staden is a board-certified family medicine specialist who enjoys personalizing medical care based on each patient's needs in acute, chronic and…
Read More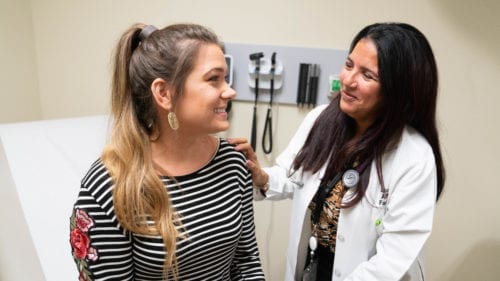 UCF Health's board-certified family medicine providers (also referred to as "general practitioners") serve as your front-line defense against illnesses and chronic diseases. In our Orlando family medicine practice, we treat patients ages 16 and older.
While most people think of family practice providers as the ones you see for routine checkups, immunizations, and periodic illnesses, these physicians also have extensive training in the treatment and management of chronic medical conditions such as diabetes, hypertension, and arthritis. When a disease specialist is needed, your Orlando family medicine provider can make the appropriate referrals, while remaining in the loop to serve as the leader of your healthcare team.
Family medicine providers also place a major emphasis on disease prevention. Whether it's a necessary screening test based upon age and gender, or a behavior modification warranted by lifestyle factors, like diet and environmental exposure, your family medicine doctor can help you make the best choices for your ongoing health.
At UCF Health in Orlando, our primary care doctors are well-known for their genuine, caring approach toward family medicine. We are committed to treating you and your family with compassion, respect and undivided attention.
Our patients' health and well-being are our top priorities, and we aim to help families achieve their greatest quality of life for years to come. We are honored to be the choice provider in family medicine for our communities in Lake Nona and East Orlando, FL.
Family Medicines Services We Offer in Orlando
Routine Checkups
We perform routine checkups and physical examinations for our patients and being established with a primary care doctor is very important to maintaining health. These visits serve to assess the wellbeing of our patients and to ensure that they do not have any underlying conditions or imminent health risks.
Many young patients visit us to receive exams and documentation, enabling them to participate in activities, such as sports and school events, that require a physical assessment.
Immunizations
Patients of all ages require immunizations and vaccinations to ensure their lifelong health. Though some immunizations are only required every decade or so in a patient's life, other immunizations (such as the flu shot) are necessary each year. Our Orlando primary care physicians offer various preventative vaccinations for families in and around our community.
Urgent Care
Our family physicians are here for your urgent care needs, including colds, sicknesses, and minor injuries. We diagnose and treat infections that cause colds, sore throats, coughs, and viruses like the flu. We also treat minor injuries, such as muscle sprains, joint strains, bruises, cuts, and bites from insects or animals.
Whether you require preventative care, treatment, or management/monitoring of a condition, our Orlando family physicians are highly-experienced and thoroughly equipped to provide you and your family with solutions.
Management of Chronic Medical Conditions
We perform tests to diagnose and monitor chronic medical conditions, including diabetes and prediabetes, hypertension, and arthritis.
Through various blood tests, x-rays, and measurements, we can assess blood sugar levels, blood pressure levels, and identify the presence of swollen joints and joint stiffness.
If you have a chronic medical condition, we are here to educate you in managing and controlling your condition to help you experience your greatest quality of life. Our family physicians will work with you to create a health plan that aims to mitigate risk factors and improve dietary habits and lifestyle choices. It's our goal to provide you with the necessary care that has a lifelong, positive impact on you or your child's life.
Practicing Locations
UCF Health offers primary and specialty care at its East Orlando location at University and Quadrangle Blvd. Near the main UCF campus.

UCF Health East Orlando

Address

3400 Quadrangle Blvd, Orlando, FL 32817

Hours

Monday – Friday: 8 a.m. – 5 p.m.

Location Information

If you have a medical emergency, call 911.
* UCF Health is located in first-floor Suite 160 & third-floor Suite 360

UCF Health Lake Nona

Address

9975 Tavistock Lakes Blvd, Orlando, FL 32827

Hours

Monday – Friday: 8 a.m. – 5 p.m. (First & Third Floors)

Location Information

If you have a medical emergency, call 911.
Reviews