Your Lake Nona Dermatologists
Dr. Naveed Sami is a board-certified dermatologist and Professor of Medicine at the UCF College of Medicine. He is a recognized national and international expert…
Read More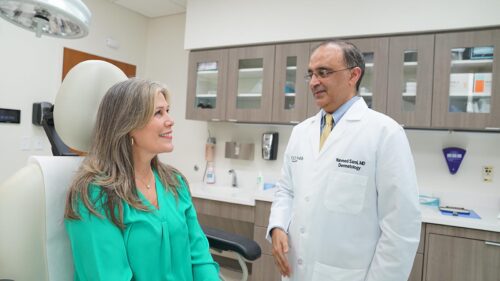 Whether you have skin lesions that need checked and require skin cancer surgery, acne, rashes or a complex medical condition that affects your skin, our expert board certified dermatologists are here to help. We provide full body skin exams and tests for diseases and conditions affecting the skin, nails and hair.
Our Orlando dermatologists are recognized leaders in their fields, offering the latest treatments. For patients with chronic dermatologic conditions and autoimmune diseases that impact the skin, we work with our patients to provide individualized treatment plans.
We take a comprehensive approach to treatment with each patient and collaborate with their other medical providers for a coordinated approach to treatment. We are known for cultivating a superior patient experience and going the extra mile to ensure that our patients are comfortable and informed.
Dermatology Services Offered
Management of Diseases of the Skin, Hair and Nails
Our Orlando dermatologists are highly experienced in evaluating, screening, managing and treating various diseases of the skin, hair and nails. Depending on your condition, our specialists will create a custom treatment plan that aims to address the source of the disease or manage its symptoms.
Acne Treatment
Acne is a skin disease that often affects the face, chest and back. This skin condition is caused by clogged pores or clogged hair follicles, and is a common source of cosmetic frustration. For patients struggling with acne, we create custom treatment plans to clear the skin. Treatments may include oral medications, topical medications or a specialized medical procedure.
Genital Wart Treatment
We can treat genital warts through various methods, including liquid nitrogen to freeze the wart, chemical medications and creams. Depending on the number of warts, the size and severity of them, surgery or laser treatment may provide a more effective and efficient route.
Keratosis Treatment
During keratosis treatment, we remove potentially cancerous lesions on the skin, caused by overexposure to the sun. Various treatments, including chemical peels, dermabrasion, cryosurgery and immunomodulator therapy are available to treat and heal these lesions.
Melanoma Treatment
Melanoma, the most serious type of skin cancer, often appears as a mole on the body. It's important to assess your body regularly, using the ABCDE signs of melanoma as a guideline. Common treatments for melanoma are MOHs surgery, cryosurgery and radiotherapy. It's important to visit us for regular screenings, so we can diagnose melanoma in the early stages.
Moles and Birthmark Evaluation and Treatment
We evaluate and treat moles and birthmarks to ensure that they aren't cancerous and to help improve our patients' self-esteem. Mole removal can be performed through a variety of different treatment measures, including surgical excision and shave excision. Depending on your condition, we will help you to determine the best treatment option to meet your needs.
Nail Surgery
Nail surgery, a highly advanced procedure, involves the removal of nail tissue to evaluate benign or potentially-malignant nail tumors. Our Lake Nona dermatologists' knowledge and experience enable us to offer this service, as it requires specialized training to perform.
Patch Testing
Patch tests are applied on the skin to diagnose allergic contact dermatitis. This procedure doesn't require any needles or incisions; it simply uses the allergen substance to assess an allergic reaction and determine the source.
Psoriasis Treatment
Psoriasis is a skin condition that commonly affects the scalp, knees, elbows, back, face and feet. This condition can cause dry patches of skin, "scaly" skin and flaky dandruff. Although there is no cure for psoriasis, we have treatments to help our patients manage this condition.
Eczema and Atopic Dermatitis Treatment
Atopic dermatitis, one of the most common types of eczema, is a condition that causes rashes on the skin. We can identify triggers, prescribe medications and perform treatments to help reduce the symptoms and severity of these flare-ups.
Rosacea Treatment
Rosacea is a chronic skin condition that often appears as red patches of skin on the face, chest and back. This condition can also cause dryness and burning sensations in the eye. We create personalized treatment plans to aid our patients in managing the symptoms of rosacea and minimizing flare-ups.
Scar Revision
Common scars include acne scars, injury scars, scars from previous surgeries and stretch mark scars. For patients who have undesirable scars, we have a number of available treatment options, including dermabrasion, laser therapy, steroids, ointments and surgery, to reduce the appearance.
Seborrheic Dermatitis Treatment
Seborrheic dermatitis is a skin condition that results in dandruff and "scaly" skin, and is often associated with psoriasis. Topical corticosteroids, medicated shampoos, creams and oral medications can be used to treat this condition.
Skin Biopsies
A skin biopsy is a quick and painless procedure that serves to determine whether a mole or lesion is malignant or benign. This procedure involves the removal of a piece of skin to diagnose different types of skin cancers or skin conditions and to begin treatment, if necessary.
Skin Cancer Screening
Inspecting your body frequently for any new spots or atypical moles is critical for diagnosing, intervening with and treating skin cancer in the early stages. Our dermatologists in Orlando provide skin cancer screenings to ensure that your skin is healthy and that there are no underlying, cancerous cells.
Skin Cancer Surgery
We perform different types of skin cancer surgeries to eliminate cancerous cells and treat skin cancer.
Split Earlobe Treatment
For patients whose earlobes have split or stretched to heavy earrings or accidents, our Lake Nona dermatologists perform split earlobe treatment to repair the skin and heal rips or tears.
Nonsurgical Treatment of Skin Cancer
Early forms of skin cancer can sometimes be treated through nonsurgical methods, such as SRT (Superficial Radiation Therapy). Depending on your diagnosis, we may determine a nonsurgical treatment to be the most effective route for your condition.
Wart Removal
Warts commonly appear on the hands, but they can grow on any part of the body. Human papillomavirus (HPV) often causes the development of warts. After performing a biopsy, our dermatologists may suggest an excision, a cryotherapy treatment, a laser treatment, or immunotherapy to remove warts.
Practicing Location
Reviews