Our Cardiologists in Orlando
Dr. David Fries is a board-certified, non-invasive cardiologist specializing in the diagnosis, treatment and prevention of all forms of cardiovascular disease. These include arrhythmias, coronary…
Read More
Dr. Bernard Gros is a board-certified cardiologist with an emphasis in echocardiography. Education Dr. Gros began his medical career at Emory University School of Medicine…
Read More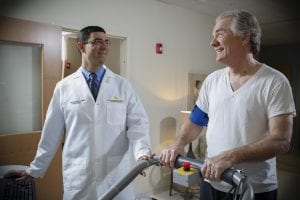 UCF Health's cardiology practice incorporates all aspects of heart disease into the patient's treatment plan, from lifestyle modifications to the latest evidence-based drug therapies.
Our Orlando cardiologists treat a variety of conditions related to the heart. We perform screenings, tests and evaluations to diagnose heart conditions, as well as treatments and monitoring techniques to improve the function of the heart.
We also offer expert treatment for Postural Orthostatic Tachycardia Syndrome (POTS), which causes people to have a rapidly increasing heartbeat when they stand up from sitting or lying down.
From your very first appointment with us, we show you personal attention and provide compassionate care. We ensure that you are as informed as possible when it comes to your current condition and available treatment options.
Our Central Florida cardiology specialists work seamlessly to provide patients with the solutions they need to achieve optimal heart health. For your convenience, we see cardiac patients at both UCF Health locations.
Conditions Our Orlando Cardiologists Treat
Coronary Artery Disease
Coronary artery disease occurs when there's a blockage or clog in the coronary arteries. When cholesterol and fatty deposits build up in the coronary arteries, blood flow to the heart is limited. This can result in heart attacks, chest pain, shortness of breath, and can be fatal. Our Orlando, FL cardiologists creates custom treatment plans to reduce plaque in the arteries, treat the symptoms of the disease and reduce risk factors.
Valvular Heart Disease
Valvular heart disease is caused by a damaged or diseased heart valve that does not open and close properly. People with valvular heart disease often experience chest pain and heart palpitations, lightheadedness and swollen ankles or feet. Lifestyle modifications and oral medications are available to treat the symptoms of this disease and to prevent or reduce further damage to the heart.
Heart Rhythm Disorders
Heart rhythm disorders, or heart arrhythmias, cause the heartbeat to speed up or slow down irregularly. These fluctuations often feel like a heart flutter or a racing heart, and can produce chest pain and dizziness. For patients experiencing an irregular heartbeat, our cardiologists in Orlando FL will first take various tests to diagnose the disorder and identify the trigger. We provide a variety of treatments, including oral medications, medical procedures and implanted devices to regulate the heartbeat.
Lipid Disorders
Lipid disorders occur when there are high levels of lipids fats, such as cholesterol or triglycerides, in the blood. As these fats build up in the blood vessels, they restrict blood flow and increase the risk of heart conditions, heart attacks and strokes. Lipid disorders are often the result of poor dietary habits and sedentary lifestyles. Medications and lifestyle modifications can help to lower cholesterol levels in the blood.
Hypertension
Hypertension, another name for high blood pressure, occurs when the blood is applying too much pressure on the artery walls. When blood pressure is above 130/80 (systolic/diastolic), it's considered hypertension. Hypertension can lead to heart attacks, strokes and organ failure. To treat and manage hypertension, our Orlando cardiologists creates custom treatment plans with lifestyle modifications, healthy habits and medications.
Cardiomyopathy
Cardiomyopathy is heart muscle disease that restricts blood flow from the heart to the rest of the body. This disease can lead to heart failure and often includes symptoms such as shortness of breath, swelling in the body and bloating. To diagnose this disease, various tests, including an ECG, stress tests, x-rays and blood tests, may be performed. Medications, surgically implanted devices and open-heart surgery are treatment methods effective for improving blood flow and the heart's ability to pump blood throughout the body.
Our Orlando heart doctor places great emphasis on preventive cardiology. He takes every available measure to reduce the chances of cardiac episodes before they occur. This can sometimes be accomplished with lifestyle changes, like adopting a heart-healthy diet. Other times, medications are necessary.
On-Site Cardiovascular Lab
When testing is necessary, the East Orlando location is equipped with a noninvasive cardiovascular lab. On-site diagnostic services include echocardiography, stress echocardiograms, Holter monitoring and coronary event monitoring. One of our Central Florida cardiology specialists, Dr. Bernard Gros, is a Level 3-trained echocardiography physician—the highest level that can be earned.
The UCF Health cardiovascular lab has earned echocardiography accreditation in adult transthoracic and adult stress testing from the Intersocietal Accreditation Commission (IAC). This designation ensures the highest level of quality and is required by many insurance carriers.
On-Site Diagnostic Cardiology Services Offered:
Echiocardiography
Echocardiography tests are performed to create real-time images of the heart. This technology sends high frequency sound waves throughout the body and records the "echo" of the sound waves bouncing off of the heart, to provide a visual of the heart's chambers and vessels. Echocardiograms are used to identify blood clots, to assess how well the heart is pumping blood, and to examine the heart rhythm.
Stress Echocardiograms
Stress echocardiograms, sometimes called stress echos, serve to assess the function of the heart and blood vessels. During this test, the patient will exercise on a stationary bike or treadmill while our cardiologists assesses blood pressure and blood flow. A stress echo is performed to diagnose various heart conditions and to identify decreased blood flow in the vessels.
Holter Monitoring
Holter monitoring tests involve a portable device that patients wear for 24 to 72 hours at a time. The purpose of these tests is to monitor heart activity, and they're often used for patients experiencing heart arrythmias, or irregular heartbeats. This device produces an electrocardiogram recording of data that our Orlando cardiologists uses to assess the heart's rhythm and function during the time it was worn.
Coronary Event Monitoring
Coronary event monitoring technique is used to record electrical activity in the heart. This test includes a portable device that patients wear for weeks or months at a time. For patients experiencing chest pain, heart arrhythmias or faintness, coronary event monitoring devices are often utilized to monitor electrical activity in the heart during cardiac events. Some monitoring devices use sticky electrode pads, while others are worn on the wrist.
Locations
UCF Health offers primary and specialty care at its East Orlando location at University and Quadrangle Blvd. Near the main UCF campus.

UCF Health East Orlando

Address

3400 Quadrangle Blvd, Orlando, FL 32817

Hours

Monday – Friday: 8 a.m. – 5 p.m.

Location Information

If you have a medical emergency, call 911.
* UCF Health is located in first-floor Suite 160 & third-floor Suite 360

UCF Health Lake Nona

Address

9975 Tavistock Lakes Blvd, Orlando, FL 32827

Hours

Monday – Friday: 8 a.m. – 5 p.m. (First & Third Floors)

Location Information

If you have a medical emergency, call 911.
Reviews