Dr. Dangiolo is a board-certified family physician with subspecialty certification in geriatric medicine. As a bilingual doctor, she has dedicated part of her career to…
Read More
As people age, many experience multiple health conditions that are unique to that phase of life. Our geriatric doctor at UCF Health Orlando has extensive experience evaluating and treating seniors, with the goal of maximizing the quality of their lives.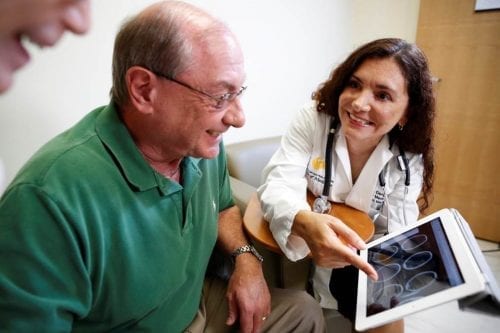 Beyond treating current medical conditions, UCF Health's geriatric team takes a holistic approach to senior care. By understanding a patient's past illnesses, their ability to handle activities of daily living, the support structure in place, psychological attitudes and personal goals, an individualized healthcare plan can be developed.
During each visit, the physician also takes great care to ensure that medications are appropriate, as well as evaluates the patient's memory to detect any sudden declines. This is done in a manner that is medically sound, while remaining respectful of the patient's fears and concerns.
In addition, our geriatric specialist works closely with seniors and their caregivers to ensure the right accommodations are made for the safety and wellbeing of the patient, from fall-prevention strategies within the home to emergency assistance plans. When patients are no longer able to live independently or under the care of a family member or friend, the geriatric team can provide guidance about the many assisted living options.
Practicing Location
UCF Health Lake Nona

Address

9975 Tavistock Lakes Blvd, Orlando, FL 32827

Hours

Monday – Friday: 8 a.m. – 5 p.m. (First & Third Floors)
Reviews