New Patient Information
Thank you for choosing UCF Health as your healthcare provider. In order to make your appointment as beneficial as possible, please review the important information below.
New Patient Forms
Locations
We have two office locations, one in East Orlando, by the main UCF campus and the other in Lake Nona's Medical City. Please ensure you are familiar with the appropriate location for your scheduled appointment.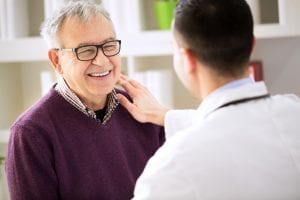 Appointments
Generally, patients are seen by appointment only. Walk-in patients may be seen if there is an appointment available. We highly recommend you call 407-266-3627 to schedule an appointment in advance.
Cancellations and Late Arrivals
Please call a minimum of one business day in advance if you are unable to keep your scheduled appointment. This allows us to provide that time slot to another patient. It is important to arrive promptly for scheduled appointments. While we will do our best to accommodate late arrivals, it may be necessary to reschedule late appointment arrivals for another day. If you no show for three appointments, we reserve the right to discharge you from the practice.
Care Teams
Our primary care providers each work closely with a dedicated advanced registered nurse practitioner (ARNP) to provide a team approach to your care. If you need to be seen urgently, please consider seeing one of our ARNPs who will provide a high level of compassionate care.
Patient Portal
Communicating via the online patient portal is a fast and easy way to communicate non-urgent issues to the office or your provider. Answers to your patient portal questions will be provided within 48hrs for non-urgent needs.
Calling Our Office
In order to provide the quickest answer to your questions, all phone calls are routed through our triage nurses. Questions that require response from your provider will be answered within 48hrs for non-urgent needs.
Test Results
We strongly encourage use of our patient portal where you can view lab results as soon as they are available to your provider. Normal results may be provided to you at your next scheduled visit or may be viewed via our secure patient portal. Any abnormal results that may require a change in your current treatment or the start of new treatment will be called to you by the provider or clinical assistant.
Prescription Refills
To avoid delays in refilling your prescriptions, please note the following: Please request a prescription refill when you still have at least one week of medication remaining. Many refills require the provider's approval. Some prescriptions cannot be transmitted electronically or called in to the pharmacy. These prescriptions must be written or printed for you to pick up at the office. Prescription refill requests will generally not be addressed after office hours by the on-call provider. Using the patient portal can expedite this process.
Privacy Practices
We take your privacy seriously. We will only release information about your health to those who you have authorized. Please read our Privacy Practices for more information on how we protect your health information.
Patient Forms
Please complete the applicable forms before your first appointment. If you have any questions, please contact us directly.
This paperwork should only be filled out when you have scheduled an appointment.
Patient Forms – Select from the list below:
If you are already an established patient of UCF Health and would like to make an appointment, please call scheduling at 407-266-3627. This paperwork is for new patients only.
All new patients, please fill out the general intake form that applies:
Consent to Treatment and Financial Agreement (PDF)
New Patient Forms (Digital)
New Patient Paperwork Forms (Updated 5/6/2022)
Notice of Privacy Practices (PDF)
Health Questionnaire (PDF)
Health Questionnaire (Digital)
Please also fill out the forms applicable to any specialties you will be seeing:
Dermatology Forms
New Patient Dermatology Health History
Information Booklet For Mohs Surgery
General Surgery Forms
Records Requests
Authorization to Obtain Medical Records from Another Doctor's Office
Authorization to Send Medical Records to the Lake Nona office (PDF)
Authorization to Send Medical Records to the East Orlando/ University office (PDF)
Authorization to Release My Healthcare Information
Authorization to Release My Healthcare Information (PDF)
Authorization to Use and Disclose My Healthcare Information (Digital)
Authorization to Release My Healthcare Information to UCF Health (Digital)
Pay Bill Online
If you would like to pay your bill online please visit paymybill.ucfhealth.com