Our Nephrologist in Orlando
Dr. Abdo Asmar is board certified in internal medicine and nephrology. He specializes in caring for patients with kidney disease, high blood pressure, kidney stones…
Read More
At UCF Health, our nephrology program focuses specifically on diseases and conditions that affect the kidneys. Our nephrologist works closely with specialists like endocrinologists to monitor patients with diabetes and rheumatologists who treat autoimmune conditions like lupus, among others.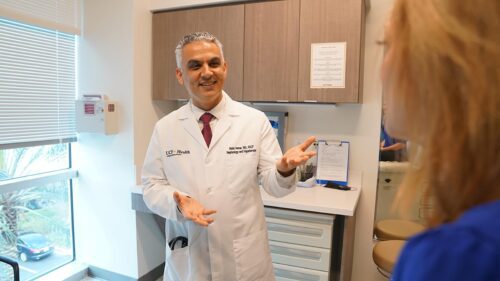 Twenty-six million American adults have kidney disease—and most don't even know it. At UCF Health, our Orlando nephrologist understands the importance of healthy kidney function and the critical role that a healthy lifestyle plays in protecting the kidneys.
For patients at risk of developing kidney disease, we create custom treatment plans that aim to mitigate contributing factors. For patients who have kidney disease, we provide solutions that enable them to live their greatest quality of life.
Our nephrologist treats each patient with compassion and respect, and we are dedicated to improving our patients' health and wellbeing.
Schedule your appointment with a top-rated nephrologist in Orlando today!
Additional Risk Factors
Cysts of the Kidneys
Cysts of the kidneys, or renal cysts, are fluid sacs that form in the kidneys. Our Orlando nephrologist can identify kidney cysts through various imaging tests and kidney function tests. If we determine that the cyst is not impeding kidney function, treatment may not be necessary. If the cyst does elicit symptoms, surgery or a drainage procedure may be the recommended treatment route.
Kidney Stones
Kidney stones are solid deposits of minerals and acid salts clumped together on the lining of the kidneys. Many kidney stones pass successfully through urination, but some stones become lodged between the kidney and the bladder, inhibiting urine flow. A treatment plan of pain medications to help ease the discomfort and alpha-blocker medications to relax the muscles may be prescribed to support the passage of the kidney stone.
Smoking
Concluded by the AAKP (American Association of Kidney Patients), people who smoke have a greater chance of developing kidney disease. Smoking is also one of the fundamental causes of the progression of existing kidney disease. This harmful habit increases blood pressure and heart rate, damages the arteries, inhibits kidney function, and reduces blood flow to the kidneys.
Obesity
Obesity increases the chances of developing kidney disease, as additional weight requires the kidneys to function harder than normal. Obesity also increases a person's chances of developing high blood pressure and diabetes—the two leading causes of kidney disease (1). It's important to maintain a healthy weight and practice healthy dietary habits to mitigate this risk factor.
Cardiovascular Disease
Chronic kidney disease (CKD) and cardiovascular disease are closely associated; they share a number of risk factors, including high blood pressure, diabetes and obesity. Cardiovascular disease often leads to kidney disease, but kidney disease can also lead to cardiovascular disease.
The heart and kidneys function in tandem. If cardiovascular disease occurs and the heart isn't pumping blood properly, this can lead to a build-up of pressure on the kidneys. This pressure can create an obstruction that prevents the flow of oxygen to the kidneys, which can cause kidney disease (2).
Symptoms
Unfortunately, people with kidney disease don't typically have symptoms in the early stages, and it's easy to miss the warning signs that may appear in lab tests like bloodwork and a urinalysis. The condition most often goes undetected, until the advanced stages. This is when the patient has symptoms, including high blood pressure and abnormal swelling.
Once diagnosed with kidney disease, UCF Health's nephrologist works closely with patients, empowering them to make informed choices about treatment options. He also educates them about lifestyle modifications that can help control the disease and reduce symptoms.