Our Internal Medicine Specialists in Orlando
Dr. Yanisa Del Toro is a board-certified Internal Medicine specialist who combines her passion for patient-centered care with expertise in educating the next generation of…
Read More
Biography Dr. Ariel Mejia is a board-certified Internal Medicine specialist who helps patients manage their illnesses with a treatment approach that is meaningful, cost-effective and…
Read More
Languages Spoken
English
Portuguese
Spanish
Dr. Joyce Paulson is board certified in Internal Medicine. She also earned the American Board of Obesity Medicine (ABOM) diplomate credential and is an expert…
Read More
Dr. Naziha Slimani is a primary care specialist board certified in internal medicine. She is familiar with the diagnosis and treatment of a variety of…
Read More
Dr. Pierce Trumbo is a board-certified general internist with interests in medical education, public health, and quality improvement efforts. Education Dr. Trumbo graduated cum laude…
Read More
Dr. Sharon Wasserstrom is board certified in Internal Medicine and Lifestyle Medicine. She is uniquely skilled in providing tailored lifestyle management that helps prevent, improve…
Read More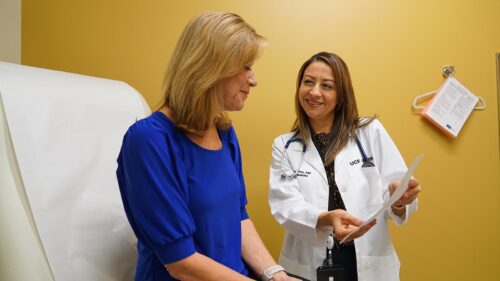 Protecting your health has never been more important. At UCF Health, all internal medicine physicians (also known as "internists") are board-certified with specialized training in the art of diagnosing, treating and preventing diseases. For this specialty, we accept patients age 16 and older.
You may be referred to an internist for a specific medical condition, or he or she can serve as your Orlando FL primary care physician, who is seen on a regular basis for ongoing healthcare. Should you have a chronic condition like diabetes or hypertension that requires regular management, an internal medicine physician can treat and closely monitor your progress. If the condition becomes more complicated, he or she may discuss referring you to a specialist.
Beyond treating your current illness, UCF Health internal medicine physicians will evaluate your overall wellness, ensuring that you are educated about the proper screenings and tests needed based on your age, gender, family history and unique circumstances. They'll also take time to discuss lifestyle changes that can make a significant impact on your overall health—from diet and exercise to smoking cessation and stress management.
Schedule an appointment with your Orlando internal medicine physician!
Our Orlando internists are dedicated to providing each patient with premier care, and their passionate approach toward helping people achieve their healthiest quality of life is unmatched. At UCF Health, each of our internists holds themselves to the highest standards.
The commitment of our primary care physicians in Orlando enables us to provide the personalized care that each of our patients deserves.
Conditions We Treat and Monitor
Our Orlando Internal Medicine team aims to treat, prevent, and closely monitor the following conditions and more:
Diabetes
Our Orlando internists perform the following tests to diagnose diabetes and prediabetes:
HbA1c (hemoglobin A1C) test
FPG (fasting plasma glucose) test
OGTT (oral glucose tolerance) test
For patients who have diabetes, we perform tests to monitor blood sugar levels and assess the effectiveness of the patient's current treatment plan. We use the results of these tests to determine if adjustments need to be made to the current treatment plan. Diabetes monitoring tests include:
HbA1c (hemoglobin A1C) test
Home-monitoring tests
Hypertension
We provide blood pressure measurements to determine whether a patient has elevated blood pressure levels or if hypertension is present. If we identify high blood pressure levels, we may advise you to visit us for routine tests, such as urine tests and blood tests, to continue monitoring your health.
Your Orlando primary care physician will take the time to educate you on how to control your blood pressure through various lifestyle changes. Depending on your condition, we may suggest an oral medication.
Obesity
Our physicians may assess your health history and your BMI, as well as perform blood tests and general physical exams to screen for and diagnose obesity. We use these test results to determine if you're at risk for various diseases and to determine how much weight needs to be lost to reach a healthy weight.
Our Orlando internists are highly knowledgeable in advising patients on the dietary changes, exercise changes, and behavior changes required to achieve a healthy weight and mitigate risks associated with obesity.
Practicing Locations
UCF Health offers primary and specialty care at its East Orlando location at University and Quadrangle Blvd. Near the main UCF campus.

UCF Health East Orlando

Address

3400 Quadrangle Blvd, Orlando, FL 32817
* UCF Health is located in first-floor Suite 160 & third-floor Suite 360

UCF Health Lake Nona

Address

9975 Tavistock Lakes Blvd, Orlando, FL 32827