Primary Care and Specialists Under One Roof
When your child is too old for a pediatrician and too young for a primary care doctor who treats adults, UCF Health's adolescent medicine doctor can help bridge the gap.
Our clinic focuses on treating adults (ages 18+). Certain specialties treat school-age children, such as dermatology.
Primary Care
Your primary care physician serves as the trusted doctor for you and your family. You'll see your primary care physician for general care, including diagnoses, treatments, regular check-ups, exams, and screenings. You'll also visit your primary care doctor for referrals to specialists who have extensive training in the area of your health concern.
Schedule Primary Care Services
Cardiology
Our cardiologists work in partnership with others specialists to comprehensively manage your cardiac health. We offer a range of testing and monitoring services though our noninvasive cardiovascular lab, including echocardiography, stress tests and Holter monitoring.
Cardiology Services
Dermatology
Our dermatologists treat a variety of skin conditions, both simple and complex. We offer a variety of treatments options for skin cancer, including Mohs surgery. We also offer a wide variety of cosmetic services to improve any imperfections that you wish to treat.
Dermatology Services
Schedule Dermatology Services
Endocrinology
Family Medicine
You can rely on our Family Medicine specialists for all your primary health care needs. Our doctors manage existing health conditions in partnership with any specialists involved in your care. With an eye on prevention, our doctors make sure that your best years are ahead.
Family Medicine Services
General Surgery
UCF Health offers a wide variety of surgical services to provide the best treatment options for patients in Orlando and surrounding communities in Central Florida. Our experienced academic surgeon has extensive expertise in a wide range of general surgery procedures, including laparoscopic minimally invasive surgery, trauma surgery and endocrine surgery.
General Surgery Services
Schedule General Surgery Services
Geriatric Medicine
As we age, the number of health conditions we are dealing with can increase. Our geriatric medicine specialist excels at leading the health care of adults age 65 and older. By integrating other members of your health care team, and family members' support, our geriatric specialist develops a comprehensive plan that puts your health first.
Geriatric Medicine Services
Internal Medicine
Our Internal Medicine specialists comprehensively manage the health of patients, whether they are currently healthy, dealing with a cold, or have multiple health conditions. Our doctors' practice evidence-based medicine to prevent diseases whenever possible and develop a health plan for patients that allows them to live their healthiest life.
Internal Medicine Services
Lifestyle Medicine
Lifestyle Medicine is a sub-specialty that emphasizes the effects of lifestyle choices on your health. Positive changes in key areas of your lifestyle, including diet, exercise, sleep, stress management, and alcohol and drug use can have a positive impact on your health an reduce your reliance on medication or even reverse disease.
Lifestyle Medicine Services
Schedule Lifestyle Medicine Services
Nephrology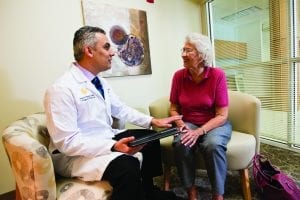 Our nephrologist helps patients living with kidney diseases and disorders, uncontrolled hypertension or complex blood pressure issues. Kidney conditions often require the care of multiple specialists. Our nephrologist works closely with other specialists, including cardiologists, endocrinologists, and behavioral health educators to best manage the health of patients with complex kidney conditions.
Nephrology Services
Ophthalmology
Physical Medicine & Rehabilitation
Two-thirds of American adults suffer from lower back pain. In fact, back pain is the second biggest reason patients make a doctor's appointment (upper respiratory infections are the first).
Spine Doctor Services
Psychiatry
We offer our existing adult patients access to an in-house clinical psychiatrist when referred by a UCF Health provider. If you can benefit from a one-time psychiatry assessment, your doctor will refer you to our in-house specialist.
Psychiatry Services
Rheumatology
Our rheumatology team helps patients manage complex auto-immune disorders, such as lupus, rheumatoid arthritis and Sjogren's syndrome. Our doctors are passionate about helping patients manage their condition and lessen pain with less reliance on medications through evidence-based lifestyle modifications.
Rheumatology Services