Our Rheumatology Doctors
Dr. Shazia Bég is board certified in Internal Medicine and Rheumatology. She specializes in the diagnosis and treatment of diseases of the joints, muscles and…
Read More
Dr. Neha Bhanusali is board certified in Rheumatology and Internal Medicine. Her areas of specialization include inflammatory arthritis, lupus, osteoarthritis, advanced biologic therapies and osteoporosis….
Read More
Dr. Maria Farooq is a board-certified physician in internal medicine and rheumatology. She is trained and certified in performing musculoskeletal ultrasounds and ultrasound-guided injections to…
Read More
Languages Spoken
English
Hindi
Punjabi
Urdu
Dr. Mosquera is a rheumatologist with strong ties to UCF. She achieved her undergraduate degree from UCF and also did her rheumatology fellowship training at…
Read More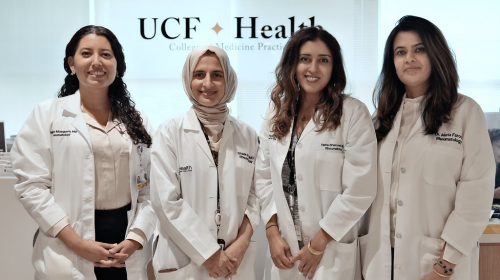 We are Central Florida's only academic rheumatologists, and we proudly specialize in tertiary referrals. Our esteemed faculty conducts research in various autoimmune diseases and is honored to teach the next generation of rheumatologists. 
Our Orlando rheumatologist specialists at UCF Health are highly experienced in diagnosing, treating and managing patients with arthritis and other rheumatic diseases affecting the joints, muscles, bones and internal organs.
We see patients with a number of common inflammatory arthritis conditions, such as rheumatoid arthritis (RA) and psoriatic arthritis. We also see patients with connective tissue diseases, including lupus, Sjörgen's syndrome and myositis.
Our rheumatologists' experience and expertise enable us to provide intra-articular injections to relieve pain for patients in the comfort of our clinic.
Schedule an appointment with your Orlando rheumatologist!
We are committed to providing compassionate care in rheumatology for Central Florida and surrounding communities. Our patients' comfort, health and well-being are of the utmost importance to us.
Our rheumatology specialists have a deep understanding for the symptoms associated with autoimmune diseases and chronic inflammatory diseases, and they are known for going the extra mile to serve patients with empathy and compassion.
It's our goal to provide you with the personal attention, solutions and education that help to improve your quality of life for years to come.
Rheumatology Services We Offer
Intra-articular Injections
For our patients' convenience, we provide intra-articular injections to treat inflammatory joint conditions in our clinic. This treatment is injected directly into the affected joint to relieve pain, reduce inflammation and improve physical function.
With our partners at McKesson (Intrafusion) we offer in-house infusion medication service. Patients can come to our Lake Nona clinic and receive intravenous medications as prescribed by their UCF Health rheumatologist.
Inflammatory Arthritis Conditions
Rheumatoid Arthritis (RA)
Rheumatoid arthritis is a chronic inflammatory disorder that typically affects the small joints in hands and feet, and can cause bone and joint deformity. This painful disorder can affect more than the joints; it often affects the lungs, skin, eyes, blood vessels and heart. A person with RA may experience painful swelling, joint tenderness, joint redness and fatigue.
Psoriatic Arthritis
Psoriatic arthritis is a form of inflammatory arthritis that often affects people who have the skin condition psoriasis. This condition commonly manifests after psoriasis of the skin develops. Many people who have psoriatic arthritis experience joint stiffness in the morning, along with regular joint pain and swelling of the fingers and toes.
Diseases of the connective tissues
Lupus
Lupus is a chronic inflammatory disease that occurs when the body's immune system attacks its own organs and tissues. A systemic autoimmune disease, lupus affects the joints, blood cells, and major organs, including the heart, skin, kidneys, brain and lungs. A person with lupus may experience joint pain, fatigue, fevers and rashes. These symptoms can flare up at times, but we can provide treatments to manage flare-ups and mitigate symptoms.
Sjögren's Syndrome
Sjögren's syndrome, similar to lupus, is an autoimmune disease that causes the immune system to attack its own cells, tissues and organs. This disease often exists with other disorders, like lupus and rheumatoid arthritis. Because Sjögren's syndrome leads the body to attack the glands that produce tears and saliva, this syndrome causes dry eyes, dry mouth and difficulty swallowing.
Myositis
Myositis is a disease that causes chronic inflammation in the muscles. This disease is often caused by autoimmune disorders, injuries and infections. A person with myositis may experience symptoms such as muscle weakness when standing, walking or exerting energy, chronic pain and swelling. Myositis can affect anyone, but this disease tends to affect women more than men. By conducting a series of tests, including blood tests, MRI scans and muscle biopsies, our Orlando rheumatologists can diagnose myositis.
Our Rheumatology Fellows
Rheumatology fellows are board certified internal medicine physicians who are pursuing advanced training to specialize in rheumatology. View the full updated listing of current and graduated fellows.
Practicing Location
UCF Health offers primary and specialty care at its East Orlando location at University and Quadrangle Blvd. Near the main UCF campus.

UCF Health East Orlando

Address

3400 Quadrangle Blvd, Orlando, FL 32817

Hours

Monday – Friday: 8 a.m. – 5 p.m.

Location Information

If you have a medical emergency, call 911.
* UCF Health is located in first-floor Suite 160 & third-floor Suite 360

UCF Health Lake Nona

Address

9975 Tavistock Lakes Blvd, Orlando, FL 32827

Hours

Monday – Friday: 8 a.m. – 5 p.m. (First & Third Floors)

Location Information

If you have a medical emergency, call 911.
Our Top Reviews