Maria Farooq, M.D., RHMSUS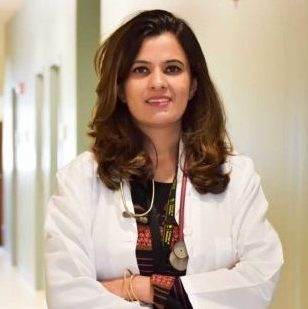 Specialty
Practicing Location
Biography
Dr. Maria Farooq is a board-certified physician in internal medicine and rheumatology. She is trained and certified in performing musculoskeletal ultrasounds and ultrasound-guided injections to help bring her patients relief with minimal discomfort using precision techniques.
Education:
Dr. Farooq received a Bachelor of Medicine and Bachelor of Surgery (MD) degree at Punjab Medical College in Pakistan. She then trained further and completed her internal medicine residency at the State University of New York (SUNY) at Buffalo, NY and her fellowship training in rheumatology at the University of Cincinnati. She completed specialized training in musculoskeletal ultrasound from the Ultrasound School of North American Rheumatologists. She is certified in MSK ultrasound.
Background:
Dr. Farooq has excellent experience in the field of rheumatology. She enjoys helping patients by identifying and diagnosing the cause of their symptoms and finds appropriate treatments that enhance their quality of life and alleviate symptoms. She has managed a wide array of complex diseases including rheumatoid arthritis, psoriatic arthritis, gout and lupus amongst other rheumatologic conditions. She has a particular interest in treating inflammatory arthritis and other autoimmune processes like lupus. She enjoys educating residents and medical students, helping them grow their knowledge and preparing them for their future as physicians. She is a member of the American College of Rheumatology and American College of Physicians.
RECENT PUBLICATIONS
Effect of raloxifene therapy on venous thromboembolism in postmenopausal women. A Meta-analysis. Thromb Haemost, Feb '99 2008 (2):338-42 PMID: 18278183; Adomaityte J, Farooq M, Qayyum R.
Phase 1 study of use of chloroquine and hydroxychloroquine in conjunction with Carboplatin and gemcitabine in advance solid tumors.
No recent media. Please check back soon.