Yanisa Del Toro, M.D.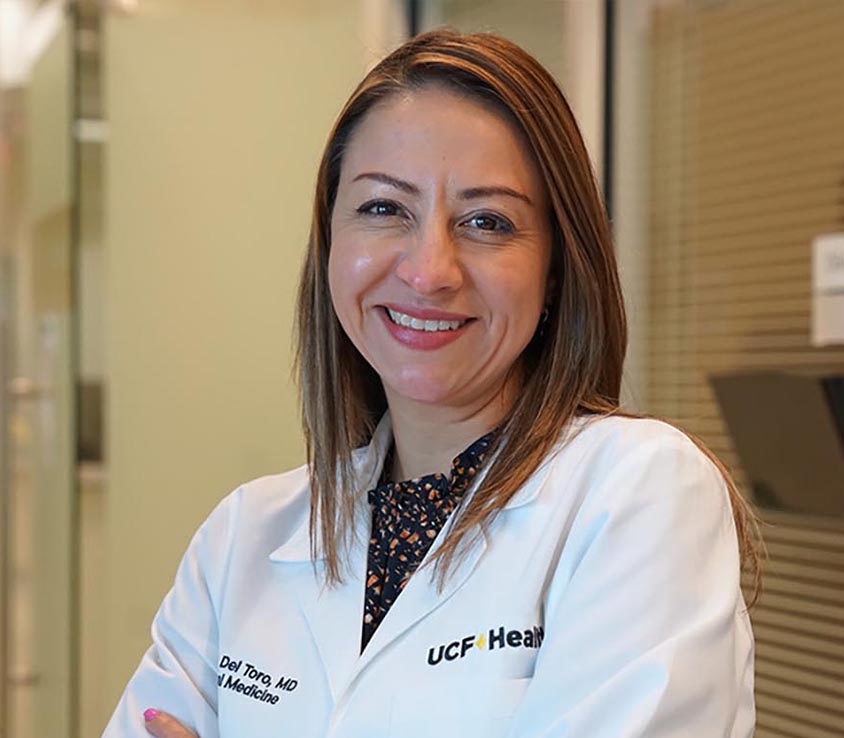 Specialty
Practicing Location
Biography
Dr. Yanisa Del Toro is a board-certified Internal Medicine specialist who combines her passion for patient-centered care with expertise in educating the next generation of physicians.
Education
Dr. Del Toro completed her internal medicine residency at the University of Miami's Jackson Memorial Hospital in Miami, FL. She earned her M.D. from Ponce School of Medicine in Ponce, Puerto Rico after graduating Magna Cum Laude from the University of Puerto Rico with Bachelor of Science degrees in biology and environmental sciences.
Background
Before joining UCF Health, Dr. Del Toro was an Internal Medicine primary care provider at Chen Medical Associates in North Miami. She was also Assistant Professor of Clinical Medicine at the University of Miami Miller School of Medicine.
She served as Associated Program Director for the Internal Medicine Residency Program at Jackson Memorial Hospital as well as its Clinical Education Director. She was also Population Health Medical Director for UHealth, the University of Miami's Health System. Dr. Del Toro has received numerous academic and community service honors, including the Superior Service Award in recognition of her contribution to the health and well-being of residents in Miami-Dade County. For two years she worked with medical students at the Domestic Violence Center in Miami, providing primary care and screening for diabetes and hypertension.
Recent Publications
Shafazand S, Wallace D, Vargas S, Del Toro Y, Dib S, Abreu A, Ramos A, Nolan B, Baldwin C, Fleming L; "Sleep Disordered Breathing, Insomnia Symptoms, and Sleep Quality in a Clinical Cohort of US Hispanics in South Florida"; J Clin Sleep Med; 8(5):507-14; Oct 15, 2012​.
Marcus EN, Sanders LM, Pereyra M, Del Toro Y, Romilly AP, Yepes M, Hooper MW, Jones BA; "Mammography results notification letters:   Are they easy to read and understand?"; Women's Health Journal; 20(4):545-551; April 2011.
Cohen DL, Del Toro Y; "A case of Valerian Associated Hepatotoxicity"; J Clinical Gastroenterol; 42(8):961-962; September 2008.
No recent media. Please check back soon.