Abdo Asmar, M.D.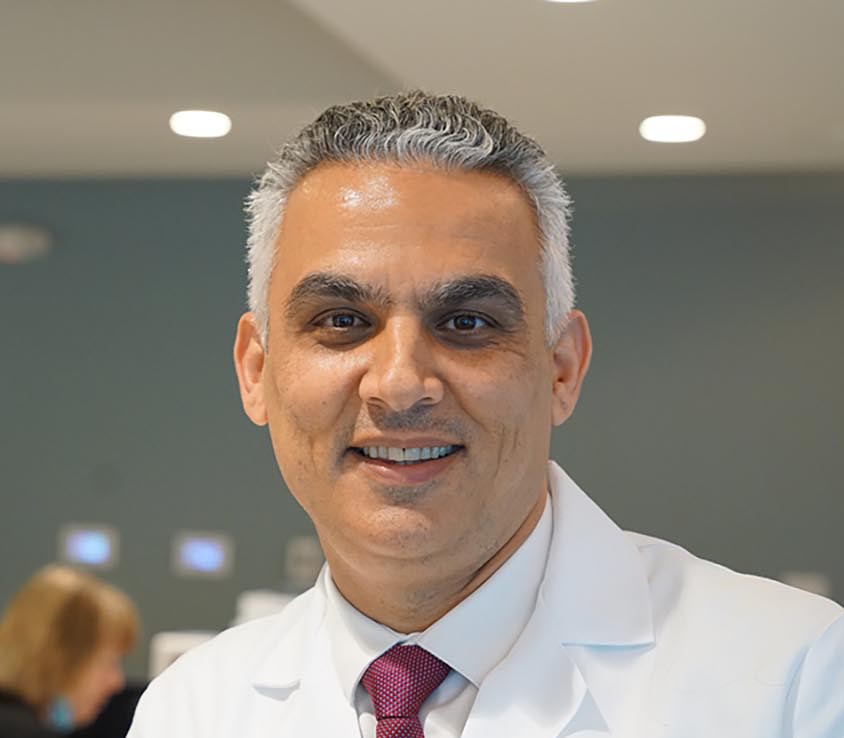 Specialty
Practicing Location
Biography
Dr. Asmar is currently only seeing referrals from UCF Health primary care physicians.
Dr. Abdo Asmar is board certified in internal medicine and nephrology. He specializes in caring for patients with kidney disease, high blood pressure, kidney stones and disorders of electrolyte and mineral metabolism.
Education
Dr. Asmar received his M.D. degree at Kaunas Medical University in Kaunas, Lithuania. He did his residency at Cook County Hospital in Chicago, where he was named Chief Resident. He received his fellowship training in Clinical Nephrology at the University of Florida.
Background
Dr. Asmar served as Cook County Hospital's director of the Internal Medicine residency program recruitment committee and its Associate Firm Chief for the Categorical Medicine residency program. He is very active in medical education and has been honored with multiple teaching awards. He is residency director of the UCF College of Medicine's Internal Medicine residency program in partnership with the Orlando VA Medical Center and Osceola Regional Medical Center. He serves on the board of the Florida chapter of the National Kidney Foundation.
Recent Peer-Reviewed Publications:
Borgan S M, Romeus L, Rahman S, Asmar A. (February 04, 2020) Internal Medicine Residents and the Practice of Defensive Medicine: A Pilot Study Across Three Internal Medicine Residency Programs. Cureus 12(2): e6876. DOI 10.7759/cureus.6876
Kauffman CA, Derazin M, Asmar A, Kibble JD. Patterns of medical student engagement in a second-year pathophysiology course: relationship to USMLE Step 1 performance. Adv Physiol Educ. 2019;43(4):512–518.
Sozio SM, Pivert KA, Shah HH, Asmar A et al. Increasing Medical Student Interest in Nephrology. Am J Nephrol. 2019;50(1):4–10.
Christine A. Kauffman, Megan Derazin, Abdo Asmar, and Jonathan D. Kibble. Relationship between classroom attendance and examination performance in a second-year medical pathophysiology class. Adv Physiol Educ 42: 593–598, 2018;
Juan C. Cendán; Analia Castiglioni; Teresa R. Johnson; Mike Eakins; Marcia L. Verduin; Abdo Asmar; David Metcalf; Caridad Hernandez. Quantitative and Qualitative Analysis of the Impact of Adoption of a Mobile Application for the Assessment of Professionalism in Medical Trainees. Academic Medicine. 92(11S):S33–S42, NOV 2017.
Kibble JD, Bellew C, Asmar A, Barkley L. Team-based learning in large enrollment classes. Adv Physiol Educ 40: 435–442, 2016; doi:10.1152/advan.00095.2016.
Laurel Gorman, Analia Castiglioni, Caridad Hernandez, Abdo Asmar, Juan Cendan, David Harris. Using Preclinical High-Fidelity Medical Simulations to Integrate Pharmacology and Physiology with Clinical Sciences. Sci.Educ.October 2015. DOI 10.1007/s40670-015-0173-z
Jaclyn Reinemann, Kirstin LaBell, Christine Bellew, Abdo Asmar, Juan Cendan, David M. Harris. Integration and Improvement of Teamwork Skills in First Year Medical Students by Using Physiology-Based High Fidelity Patient Simulations. Med.Sci.Educ.October 2015. DOI 10.1007/s40670-015-0161
Christin Giordano, Olga Karasik, Kelli King-Morris, and Abdo Asmar. Uric Acid as a Marker of Kidney Disease: Review of the Current Literature, Disease Markers, vol. 2015, Article ID 382918, 6 pages, 2015. doi:10.1155/2015/382918.
Thompson JC, Castiglioni A, Johnson EN, Asmar A, Jones WS. Lapses in Professionalism During Residency Training: A Suggested Approach. Academic Internal Medicine Insight I 2014 I 12:3: 17-19.