Mariana B. Dangiolo, M.D.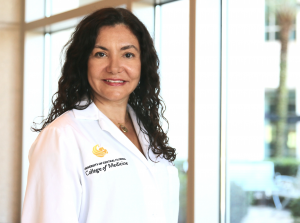 Specialties
Practicing Location
Biography
Dr. Dangiolo is a board-certified family physician with subspecialty certification in geriatric medicine. As a bilingual doctor, she has dedicated part of her career to serving American Indian and Latino populations.
Education
Dr. Dangiolo received her M.D. from Universidad de Buenos Aires Medical School in Buenos Aires, Argentina. She had her residency training in family medicine at the Mayo Medical School College of Medicine in Rochester, Minnesota. She completed a fellowship in geriatric medicine at Stanford University School of Medicine and served as geriatrician at the Veterans Affairs Hospital in Palo Alto, California.
Background
Dr. Dangiolo has dedicated part of her career to serving American Indian and Latino populations and has served as a Medical Director for the Indian Health Center of Santa Clara Valley and as a leader for the Diabetes National Collaborative for the Indian Health Center. She is active in the American Academy of Family Physicians, Mayo Clinic Alumni Association, American Geriatrics Society, Physicians for a National Health Plan and the Florida Medical Association. She is appointed to the Alzheimer's Disease Research Grant Advisory Board where she helps grant funding for research of this disease.
PUBLICATIONS
Bravata D, McDonald K, Owens D, Dangiolo, M et al. Bioterrorism Preparedness and Response: Use of Information Technologies and Decision Support . Evid Rep Technol Assess (Summ). 2002 Jun
Kenneth Brummel-Smith, MD, Dangiolo, M. Assistive Technologies in the Home. Clin Geriat Med. Feb 2009
Dangiolo, M. Teaching and learning moments: The Inner Invisible. Acad Med, Jul 2010
Golden A, Berry A, Cannarozzi M, Dangiolo M. UCF Medical Student Comprehensive Geriatric Assessment. MedEdPORTAL; 2012. Available: www.mededportal.org/publication/9251
Noblin A, Cortelyou-Ward K, Cantiello J, Breyer T, Oliveira L, Dangiolo M, Cannarozzi M, Yeung T, Berman S. EHR Implementation in a New Clinic: A Case Study of Clinician Perceptions. J Med Syst. Aug 2013
Mariana B. Dangiolo MD, Shalu Gillum JD MLS, Nancy Clark MEd and Andrea Berry MPA. Geriatric EMR Templates. POGOe – Portal of Geriatrics Online Education; 2013 Available from: http://www.pogoe.org/productid/21620
Dangiolo M, Berry A, Heizmann J, Furer S, Doctor M. Systems-Based Geri-Anatomy Curriculum. MedEdPORTAL Publications; 2016. Available from: https://www.mededportal.org/publication/10329.
HONORS
Certificate of Appreciation, Department of Veteran Affairs, Palo Alto, CA, 2002
Certificate of Appreciation, Neighborhood Health Center, Tallahassee, FL, 2009
Richard Tucker Competitive Gerontology Research Award, University of Central Florida, 2012
Meaningful Use Vanguard, University of Central Florida College of Medicine, 2013
Richard Tucker Competitive Gerontology Research Award, University of Central Florida, 2014
Clinical Achievement Award, University of Central Florida College of Medicine, 2014
Selected "America's Top Doctor", Geriatric Medicine, 2014 & 2015
Selected "Orlando Top Doctor", Geriatric Medicine, Orlando Life Magazine, 2014-2016
Patients Choice Award, Vitals, 2015
Scholarship of Teaching and Learning Award, University of Central Florida College of Medicine, 2016
College of Medicine Service Award, University of Central Florida College of Medicine, 2016