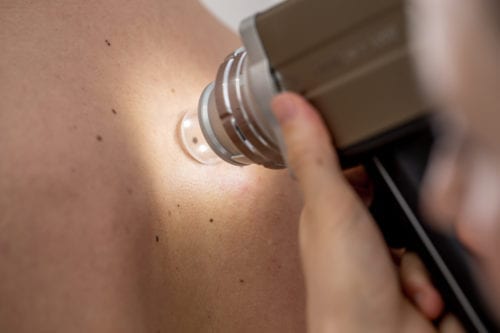 Mohs surgery, also known as Mohs micrographic surgery, is a minimally-invasive procedure performed to treat skin cancers (specifically basal cell carcinomas and squamous cell carcinomas) by removing skin cancer tissue, without removing healthy tissue.
The technique used in Mohs micrographic surgery involves the removal of thin layers of skin (one layer at a time) to extract only the cancerous skin. Our goal in the UCF Health dermatology department is to restore our patients' health via minimally-invasive approaches that allow us to leave as much healthy skin untouched as possible.
Mohs surgery originated as "chemosurgery" in 1936 by Dr. Frederic Edward Mohs, who used a zinc chloride solution to excise skin tissue from cancerous rats. Over time, this procedure transformed into the "fresh-tissue technique" that eliminated the need for the zinc chloride solution on humans. (Application of zinc chloride on the skin was found to cause severe discomfort.)
The "fresh-tissue technique" then adopted the name "micrographic surgery" to reference the technique's use of a microscope and the treatment of individual tissue layers. During the 1985 American College of Chemosurgery annual meeting, the procedure officially evolved to the name "Mohs micrographic surgery", in honor of Dr. Frederic Mohs' success in developing a minimally-invasive skin cancer treatment.
With a cure rate of 99%, Mohs surgery is significantly effective in treating skin cancers.
How Mohs Surgery is Performed
The advanced Mohs surgical procedure is performed by surgeons who are specially trained in Mohs surgery. Dermatologists are the most common doctors to perform Mohs surgery because this procedure is a part of their medical training.
Dermatologists may also undergo a fellowship in Mohs surgery to further their knowledge and qualification in performing this procedure. Our dermatologist is one out of a handful of physicians in the Orlando area who is fellowship-trained in Mohs surgery and certified with the American College of Mohs Surgery!
Successful Mohs surgery requires three main segments:
Removal of cancerous skin tissue
Analysis of lab specimens
Closing or reconstructing of the remaining healthy tissue
Mohs surgery can be performed on an outpatient basis, in a doctor's office with a lab nearby for the surgeon to examine the extracted skin tissue.
This procedure is completed in a single visit, but is separated into a few stages:
Stage 1: Local anesthetic is applied to numb the affected area of the skin that was previously biopsied. (Patients will remain awake for the Mohs procedure.) Many patients report this stage as the only part that causes pain or discomfort throughout the entire procedure.
Stage 2: The Mohs surgeon will use a scalpel or curette to remove a thin, top layer of the cancerous skin tissue. The affected area of skin is temporarily bandaged while the skin sample is taken for lab analysis.
Stage 3: In the lab, the extracted skin tissue is cut into sections, examined for skin cancer cells, and color-coded with dye to establish the top, bottom, left, and right of the skin sample. The Mohs surgeon uses this color-coding to create a precise Mohs map that indicates exactly where the cancerous tissue is located on the skin.
Stage 4: The extracted skin tissue is then frozen and cut into thin horizontal pieces that are carefully examined under a microscope. The Mohs surgeon will examine all sides of the skin tissue sample and pinpoint areas where the cancerous cells are located. These pinpointed areas will be added to the Mohs map.
Stage 5: More anesthesia will be administered to the affected area of skin, and stage 2 is repeated. Another thin layer of skin is removed from the site with accuracy and precision, using the Mohs map to identify the exact locations of cancerous cells.
Stage 6: In the lab, stage 3 is then repeated to examine the skin tissue sample and add data to the Mohs map. If the Mohs surgeon determines that all cancerous tissue has been removed, no more skin samples will be removed. If there are still cancerous cells under the microscope, stages 2 and 3 will be repeated until all cancer cells are successfully removed from the site.
Stage 7: Once all cancerous tissue has been removed and only healthy tissue remains, the patient's wound is repaired. The method used to repair the skin will differ by patient. Depending on the size of the wound and its location, it may be repaired via skin graft, closed with stitches, or left open to heal. This stage of Mohs surgery may be performed by a plastic surgeon, depending on the site of the extracted skin.
Stage 8: Following the procedure, your Mohs surgeon will provide a detailed explanation of how to care for your wound, any medications you may be prescribed, and when to visit or follow-up with your doctor to ensure a healthy recovery.
The length of the entire procedure ranges around 2 to 4 hours, depending on how many rounds of skin layer removal are required. The longest parts of the procedure are the stages performed in the laboratory, as your Mohs surgeon will be meticulous in his examination to ensure efficiency and accuracy when creating the Mohs map and removing the next layer of skin.
Is Mohs Surgery Right for You?
The only way to know whether you're the right candidate for Mohs surgery is to visit your dermatologist for a consultation.
Because Mohs surgery is a precise and highly-advanced treatment, there are certain criteria that may be met to ensure that this treatment will be as effective as intended. This criterion includes (but isn't limited to):
Cancerous cells are located around the eyes, ears, hands, feet, nose, mouth, head, lips, toes, or genital area.
The skin cancer present is basal cell carcinoma (BCCs) or squamous cell carcinoma (SCC).
The affected area of skin has undefined borders or is considered large and aggressive.
Our Orlando dermatologists are highly trained and experienced in detecting and diagnosing skin cancers and suggesting the most effective, least-invasive treatment option for each patient's specific case. We always take into consideration your medical history and the signs and symptoms of your condition to help you make the best decision for your health.
Wound Healing after Mohs Surgery
It's difficult to determine what a patient's scar will look like after Mohs surgery because the cancerous cells are sometimes rooted much deeper under the skin than they appear on the surface. For this reason, scars can be longer in size than the patient may expect.
Depending on how the wound is repaired, whether it was left open to heal, required stitches to close the skin, used a nearby skin flap, or a skin graft from another area of the body, the appearance of the scar can vary.
Choosing a dermatologist who has extensive experience in Mohs surgery can make a difference in the appearance of a patient's scarring after a Mohs procedure.
To support the wound in healing after a Mohs procedure, the patient should avoid bending or stretching the area for five to ten days to prevent the wound from bleeding or the skin from breaking.
Patients may be prescribed a medicinal ointment or cream to treat the wound at-home after the Mohs procedure, depending on the method of wound repair. Your Mohs surgeon will provide you with all of the instructions you need to care for your wound properly.
Risks of Mohs Surgery
As with any procedure, there are potential risks to Mohs surgery. Patients should carefully consider the following risks of this treatment:
Bleeding, infection, itching, or numbness at the wound site
Muscle weakness where the cancerous skin was removed
Pain or soreness at the wound site and surrounding skin
A thick scar remains at the wound site
Can skin cancer come back after Mohs surgery?
The type of skin cancer that was present can affect whether it will redevelop after surgery. The body can be fairly unpredictable, so it's not easy to predetermine if cancer will reappear.
For basal cell carcinomas specifically, the recurrence risk after Mohs surgery is about 1%.
Mohs surgery has a high cure rate of 99% for new skin cancers that develop, and 95% for skin cancers that recur.
We are proud to perform the Mohs procedure, as this advanced treatment is highly effective for treating the two most common skin cancers, basal cell carcinoma, and squamous cell carcinoma, while only removing cancerous skin cells.
At UCF Health, we aim to educate our patients on the risks of skin cancer and ways to prevent this disease from developing. Our exceptional dermatologists have the expertise and experience you need to improve your skin's health. 
When you schedule an appointment with our top-rated dermatologists in Orlando, you can rest assured that your greatest quality of life is our top concern.