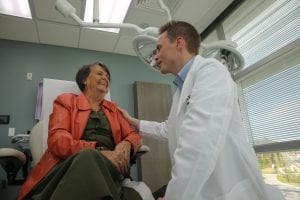 As a Florida resident, you either love the sun, or learn to love it. But all that time in the sun increases your risk for skin cancer. The U.S. has the second highest incidence rate of skin cancer, and until people take a more preventative approach to sun safety, skin cancer screening and treatment will remain an important aspect of your overall health.
.
Skin Cancer Treatment Options
There are a variety of ways to treat skin cancer. Your doctor will determine the best method of treatment for you based on the type of cancer, its location, and your past skin cancer history.
Options include:
Mohs surgery
Scraping and burning
surgical removal
X-ray treatment
cryosurgery (freezing)
About Mohs Surgery
Mohs surgery is the most effective treatment available for both basal cell and squamous cell carcinoma. It has the lowest recurrence rates, highest cure rates and best cosmetic results of any skin cancer treatment. This is achieved by removing thin layers of skin one at a time and examining the skin for remaining "roots" of cancer. With all the roots removed, you leave knowing you are cancer free.
It is important to emphasize that no technique, including Mohs, can promise 100 percent cure. However, of all the available techniques for removing skin cancer, Mohs surgery preserves the greatest amount of healthy tissue and has the highest cure rate, ranging from 95 to 99 percent.
Since sun and UV exposure are the greatest risk factors for these cancers, it's not surprising that 80 percent of these cancer cases occur on the face and neck- areas that most people do not want to be left with holes or scars on their skin. With Mohs surgery, only the affected skin is removed. This preserves the greatest amount of healthy skin and provides a better cosmetic outcome.
Download Our Information Booklet For Mohs Surgery
---