What is primary care and why is it important?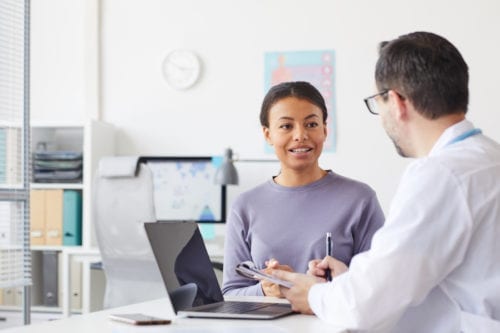 Primary care is the routine health care and treatment of general ailments that promotes a patient's wellbeing. This type of generalized medicine ensures that people are on the right track to having healthy, high-quality lives. Primary care is your first line of defense against illness, chronic conditions, and injury.
Primary care is typically provided by a family physician, nurse practitioner, or internist within the healthcare system. Depending on your age or need of treatment, you may consult with a team of doctors who monitor your current health condition and advise on a treatment plan going forward. Some patients may even book an appointment with a physician's assistant or APRN based on the available resources at their medical facility or clinic. 
Various services are covered under primary care including but not limited to yearly examinations, wellness checkups, and the treatment of flu, cold, strep throat, and other common ailments. Primary care also encompasses the diagnosis of less common ailments through conversation and examination. Primary care includes vaccinations, cancer screenings, allergy tests, and the like.
Primary Care Doctors
A primary care physician can assist you uniquely because they are able to study your medical history, develop a trusted rapport, and consider your needs going forward. For example, if you have had little success with certain medicine for acid reflux, they may be better able to suggest lifestyle changes, like dietary restrictions or change in sleeping habits since they know you and your complete health picture. Visiting an Urgent Care for this issue may simply result in the prescription of another medication or an over the counter symptom suppressant. 
The training that primary care doctors undergo includes four years in a pre-med course of study to earn a bachelor's degree before moving on to medical school. After medical school, those wishing to enter the field of primary care train during a residency and then may choose to specialize in a certain area of primary care – i.e. internal medicine, pediatrics, and family medicine.
Visiting with the same doctor helps both the patient and the provider feel increasingly comfortable discussing symptoms and treatment plans. If a certain health care plan isn't working or your health suddenly shifts, your doctor can better unpack what's going on and redirect your course of treatment because of your established history.
In addition, if you have specific lifestyle needs – such as dietary restrictions, athletic pursuits, job stressors, and the like – your doctor can diagnose conditions through a narrowed scope. For example, if you are a vegetarian suddenly feeling fatigued and constantly run down, your doctor may be able to quickly assess that you lack specific vitamins and minerals and need to add supplements to your diet.
Why is it important to have a primary care doctor?
As humans age and their lifestyles change, so does their entire health snapshot. Primary care physicians walk with patients through their health journey and are better equipped to monitor the ever-changing picture. Routine checkups can mitigate sudden health issues by detecting early warning signs. During each routine visit, your blood pressure, temperature, and chronic conditions get evaluated and a primary care physician can compare results with previous years' checkups to ensure you are still healthy and fit.
The long term benefits of primary care come from an established doctor-patient relationship and complete medical history. If something suddenly is off with your blood work, you experience a sudden gain or drop in weight, or another odd change occurs, you can consult with your primary care doctor and address the problem faster than you could by scheduling an appointment as a new patient with a random general practitioner. Patients who see primary care physicians on the regular have better, more reliable access to beneficial health care plans.
How can a primary care doctor benefit a whole community?
Because primary care doctors see an array of patients with a variety of medical histories, they are more equipped to see a snapshot of an entire community's health. Whereas an ENT would come face to face with many people experiencing respiratory or auditory issues, a primary care doctor consistently treats the ailments of patients of all ages and backgrounds. Primary care doctors may also be able to notice a certain illness or chorionic disease affecting a group of people and get to the bottom of it because they have a large pool of individuals to study.
A primary care doctor's role in the community is to provide comfortable, convenient access to health care. Establishing a relationship with a UCF Health primary care provider ensures you are consistently on the path to a healthy, high quality of life. Our experienced Orlando family physicians offer exceptional primary care and work together in collaboration with other knowledgeable medical personnel, including experienced nurse practitioners. Our board-certified primary care physicians in Orlando have ample years of experience in numerous areas of medicine, including family medicine, women's health, and acute care. This team effort facilitates the best possible outcome for treatment, prevention, and long-term care.
Our convenient patient portal allows new and returning patients to quickly book an appointment online. Contact our customer service representatives to discuss insurance coverage or any other concerns you may have before visiting the center. UCF Health Services prioritizes making patients feel comfortable, well-looked after, and healthy.