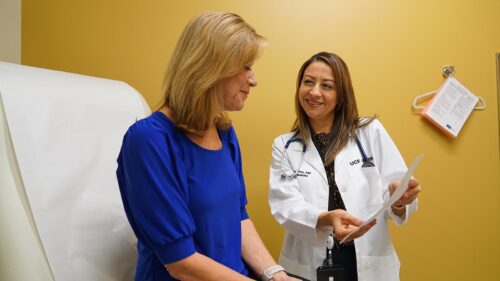 A primary care physician (PCP) serves as a person's go-to doctor for all non-emergency healthcare needs. Primary care doctors can diagnose and treat most health-related issues, from skincare concerns to bodily system disorders.
If your primary care doctor cannot treat your condition, he or she will refer you to an experienced specialist who can! Your PCP is your health advocate, helping to connect you with the right treatment options and specialists for your health concerns.
Developing a lasting relationship with your PCP allows your doctor to better understand your needs, based on your health history over the years. When your doctor is familiar with your medical history and lifestyle, it leads to better treatment outcomes and a more personalized treatment plan.
Here's what your PCP can do for you:
Monitor your health over the years
Help you develop healthy habits and take preventative measures against disease and illness
Diagnose and treat conditions and illnesses when/if they arise
Anticipate future health needs
Familiarize you with possible treatment routes
Are there different types of primary care doctors for different specialities? Yes! In fact, there are quite a few different types of primary care physicians, with doctors who have extensive training in each healthcare specialty.
Let's dive into each specialty:
Types of Primary Care Physicians
Family Practitioner  
A family practitioner is a doctor who specializes in ongoing, lifelong healthcare for patients of all ages. These doctors work with young children, teens, adolescents, adults, pregnant women and older adults. Family practitioners provide a full range of services, including:
Comprehensive wellness exams and routine checkups
Education and disease prevention
Routine medical operations
Vaccines and immunizations
Individualized health programs to help patients optimize their health
Diagnose and treat colds, sicknesses, and minor injuries
Chronic disease management
At UCF Health, we work with patients (ages 16 and up) to create health plans that aim to mitigate risk factors and improve dietary habits and lifestyle choices! Each of our
family physicians in Orlando
exhibits great listening and communication skills, shows every patient empathy, and provides a comfortable, welcoming environment at every visit.
Internal Medicine Doctor  
An internal medicine doctor (also known as an 'internist') specializes in diagnosing, treating, preventing, and monitoring chronic conditions. These doctors generally work with adults to help ensure their overall wellness and monitor any existing conditions. Internal medicine physicians may treat the following health conditions, and more:
Diabetes
High blood pressure (hypertension)
Obesity
Heart disease
Lung disease
Arthritis
Acute illnesses (bronchitis, pneumonia, flu, etc.)
If you're an adult with a chronic illness, or seeking to prevent health issues, manage pain, receive diagnostic procedures, health screenings, or a simple wellness checkup, we encourage you to visit one of our internal medicine
primary care physicians in Orlando
!
Lifestyle Medicine Doctor  
A lifestyle medicine doctor is a primary care physician who specializes in holistic, natural, comprehensive methods of care to treat or prevent chronic diseases and medical conditions through healthy living.
Lifestyle medicine
is evidence-based and constantly evolving as new advancements and developments are made in science. Your primary care provider in lifestyle medicine will work with you to create a healthy lifestyle (diet, physical activity, sleep, etc.) plan that minimizes risk factors and helps you prevent medical conditions through natural solutions.
Transgender Healthcare Provider  
At our UCF Health transgender clinic, we provide
primary care services tailored to transgender individuals
' needs. Our experienced physicians work with transgender individuals, pre and post-transition, to provide:
General wellness services
Enhanced psychological care
STD testing
Physical examinations
Preventative care
Birth control
Sexual and reproductive care
Hormone therapy support
Pediatrician  
Pediatricians are primary care physicians who specialize in treating, diagnosing and monitoring health for children, from newborns to age 18. These doctors provide a wide range of comprehensive care services to monitor children's physical, emotional and social development, and provide the following services:
General wellness services and health checkups
Physical exams
Diagnose and treat illnesses and health conditions
Prescribe medication
Offer health advice for parents
Refer you to a specialist if necessary
At UCF Health, our primary care physicians treat patients ages 16 and up and do not offer pediatric services.
OB/GYN  
An OB/GYN (obstetrics and gynecology), also called a gynecologist, provides women's health services and specializes in women's reproductive health. Gynecologists can diagnose and treat health conditions related to the uterus, fallopian tubes, ovaries and breasts. An OB/GYN will help guide women in terms of nutrition, diet and lifestyle, and can recommend and prescribe birth control. They perform various women's health exams and screenings, routine checkups and tests, minimally invasive surgery, and family planning support. UCF Health does not currently offer gynecology services.
Geriatrician  
A geriatrician, or geriatric doctor, specializes in medical care for seniors. These doctors help to guide older adult patients in making informed healthcare decisions and refer patients to specialists if necessary. Our
geriatric physicians in Orlando
take a holistic approach to coordinate overall care for seniors and help maximize the quality of their lives. The risk of developing a chronic illness increases with age, specifically around age 65, which makes having a primary care physician who specializes in treating geriatric conditions essential for staying proactive and maintaining health. UCF Health's experienced geriatricians offer the following geriatric services, and more:
Examine medical history to identify and/or anticipate medical conditions
Diagnose, treat and/or manage illnesses or diseases
Advocate for the patient's well-being and monitor prescriptions
Perform physicals and wellness exams
Monitor health over time to determine declines or changes
Fall prevention strategies
Emergency assistance plans
Guidance with assisted living options
When to see a primary care doctor
For all of your non-emergency health concerns: routine check ups, chronic disease management, seasonal sickness, immunizations, preventative care and wellness screenings, visit your primary care doctor!
Situations that require immediate medical attention and could be life threatening or damaging to your body should either be handled by an urgent care doctor or an emergency room doctor.
Here are some examples of primary care vs urgent care vs emergency situations:
Primary Care
Urgent Care
Emergency Care
Yearly check-up
Trouble Sleeping
Digestive Issues
Weight gain or loss 
Urinary tract infection
Flu
Sinus infection
Sprain or muscle pull
Seizure
Head injury
Severe burn
Neck or spine trauma
The benefit of having a primary care provider
1. Your primary care provider offers a wide range of services.
Primary care physicians can handle most of your non-emergency health concerns. It's far more convenient to visit one doctor for most of your health needs than to seek out a new doctor for each concern.
2. Developing a relationship with your PCP leads to better treatment outcomes.
When you develop a lasting connection with an experienced primary care provider, you have a health advocate who's always in your corner! Your PCP will refer you to trusted specialists, so you don't have to worry about finding a qualified doctor on your own. Some specialists actually require a referral in order for you to visit them, so your PCP is essential for helping you along your treatment journey.
3. Primary care is patient-centric.
Your PCP's goal is to lead you to the best treatment route for your health concern. If that means referring you to another doctor, that's what your PCP will do! Your doctor only wants what's best for you and your long-term health.
4. Primary care is the most cost-effective route.
If you tried to find a specialist for each medical need for you and your family, it would cost quite a bit of money in health insurance copays, deductibles and fees. Your primary care doctor serves as your all-in-one solution to hear your concerns, diagnose your condition and/or point you in the right direction of a specialist who can treat you.
You may visit 2 to 3 specialists on your own before finding the right one for your condition. Symptoms can be difficult to self-diagnose!
5. Your PCP helps you live a healthy lifestyle.
Your primary care doctor genuinely cares about your health. He or she wants to help you live your greatest quality of life, while managing stress and anxiety in productive ways, preventing common diseases and illnesses, and planning for your future health.
How to find the right PCP for you
From qualifications and skills, to years of experience, professional association memberships, patient reviews and bedside manner, there are a number of factors that indicate whether a doctor is qualified and provides the level of care you deserve.
Board-Certification
To become board-certified, a doctor has to pass a series of tests and undergo additional training in their specialty. Board certification signifies the highest level of accreditation within a doctor's given specialty. It also indicates a doctor's commitment to providing a superior quality of care for his or her patients.
At UCF Health, all of our internal medicine physicians, lifestyle medicine physicians, family medicine physicians, and geriatric doctors are board-certified!
Experience
Before choosing a primary care provider, assess their experience. Are they new to the field, or have they been treating patients successfully for years? Do they specialize in your area of need?
Adolescents ages 16 and up who need a PCP can visit our family medicine physicians. If you're an adult, we encourage you to visit one of our internal medicine doctors. If you're 65 years young, you can visit one of our experienced geratric physicians! Get to know our physicians to determine which one best suits your needs.
Google Reviews
Reading a doctor's Google reviews is one of the best ways to gain genuine insight into the doctor's quality of care. What are his or her patients saying about their experience with the doctor? Does the doctor appear to have good bedside manner? Are they caring and invested in their patients' health?
We encourage you to review any of our doctors' Google reviews! We're proud to have a highly-qualified team of physicians at UCF Health who prioritize our patients and stay on the cutting-edge to provide the best possible treatment experience.
Schedule an appointment with a top-rated primary care physician.
Whether you're looking for family medicine doctors, lifestyle medicine, internal medicine, or geriatric medicine, we have a top-rated physician to meet your needs.
Our team of primary care physicians features Dr. Mariana Dangiolo, Dr. Virgil Dawson, Dr. Yanisa Del Toro, Dr. Naziha Slimani, and Dr. Sharon Wasserstrom – all of whom are board-certified with positive patient reviews.
When you choose UCF Health for your healthcare needs, you can rest assured that you're in the best hands! We're proud to serve you with convenient locations in East Orlando and Lake Nona, Orlando.
Schedule an appointment with a board-certified primary care physician through our online scheduling tool! Once you visit your doctor, you can use our patient portal to view lab results, send secure messages to their doctor, view statements and receipts, and manage prescriptions.