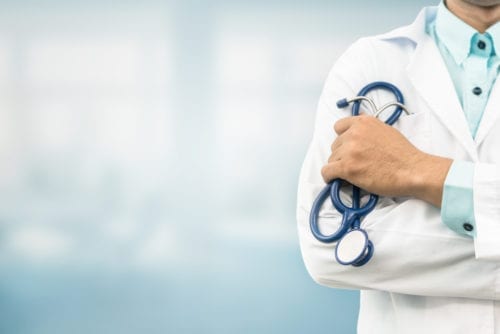 Adult patients seeking a primary care doctor can enlist the help of internal medicine physicians or family medicine specialists.
While both share similarities in their practice, treatment, and patient scope, there are significant differences to consider when searching for a primary care physician.
What is an Internal Medicine Doctor?
An internal medicine physician, or internist, focuses on the internal health of patients' organs and internal systems, often treating those with a chronic illness. Many internal medicine doctors often work in hospitals and collaborate with a team of medical professionals to help diagnose a wide variety of ailments, from common or complex.
Internists have less of a specific focus regarding ailments or diseases, but rather oversee and guide their patients' internal health by implementing preventative care practices. Patients should consider seeing internal medicine doctors if they suffer from chronic illnesses or genetic diseases. As the body ages, chronic illnesses become increasingly apparent and thus, many internists see many geriatric patients. 
What is a Family Medicine Doctor?
Family medicine typically treats all members of a family – both young and old. Family practitioners frequently perform 'well-patient' check-ups and other routine appointments in an office setting. While a family doctor can certainly diagnose and treat serious illnesses, they may also opt to refer a patient to a specialist.
The role of a family medicine doctor varies regarding patients' needs, but in general, most family doctors can be classified as primary care physicians who are aware of and monitor the health of patients throughout various stages of life.
One should consider seeing a family medicine doctor if they are generally healthy and do not require extensive treatment or care. Those who utilize the services of a family medicine doctor for yearly checkups, gynecological visits, or outpatient treatments can benefit from the care of a family practitioner.
What is the Difference between a Family Medicine Doctor vs. Internal Medicine Doctor?
In a simple sense, a family medicine doctor is a combination of a pediatrician and internist who sees the elderly, adults, young adults, and children, treating a variety of illnesses, chronic or temporary.
Another differentiation is that internists do not see children, while family medicine doctors see patients of all ages and in all life stages. A family medicine doctor can grow with a patient, through the various stages of adulthood into the senior years.
Additionally, a family medicine physician can be helpful when you are in charge of a family member's health care plan. An internist often receives new patients who did not grow up with a family medicine practitioner but still needs a primary care doctor. 
The education and background of an internal medicine vs. family medicine physician varies. Family medicine specialists and internists both take three-year residences, however, the location and focus of the residences differ greatly. A resident internist usually works at a hospital and is tasked with emergency, critical, and medical subspecialty care for the entirety of their residency. A family medicine doctor spends one year performing this type of training then splits the remaining two years working in pediatrics or another discipline.
Choosing Between an Internist and Family Medicine Specialist
Both types of doctors offer a variety of care for a broad spectrum of patients. Choosing between the two comes down to your preferred health care plan, your age, and your medical history.
Those with chronic conditions can start implementing the help of an internist to monitor the condition as they age. Middle-aged to elderly patients should seek the guidance of an internist because, even for the healthiest of individuals, chronic illnesses become increasingly common as the years pass.
Those with minimal pre-existing conditions or those in need of a consistent, yearly check up can book an appointment with a family medicine doctor.
Utilize our patient portal to learn more about UCF Health's services, view medical records, request receipts, and so much more. Find experienced, top-rated nurse practitioners, family medicine physicians, and internists and book your appointment today. 
Choosing a doctor is an important process that requires careful research and a solid understanding of our country's health care system. UCF Health is here to help. We offer a variety of online and over-the-phone resources to guide new and existing patients along the way to an optimal health care plan with the correct primary care doctor. Contact us today to learn more.
Orlando Family Medicine at UCF Health
UCF Health's Orlando family physicians are experienced, board-certified family medicine physicians who see patients ages 16 and up. Our doctors not only provide checkups and preventative care visits but can also diagnose and treat chronic illnesses such as diabetes, hypertension, and arthritis. 
Scheduling an appointment is straightforward with our online form. For new patients, download and fill out our "New Patient Form" to expedite your initial visit. Those wishing to schedule via telephone can call our student health center and speak with a knowledgeable representative. UCF Health accepts most major insurance plans but patients with insurance-related questions are always invited to call our insurance specialists to confirm.
UCF Health services are different from other practices because we offer a variety of doctors under one roof. Those requiring more complex diagnoses or treatments needn't travel far to find a doctor who is qualified to help. From Cardiology and Endocrinology to Lifestyle Medicine and Internal Medicine, our state-of-the-art health center is determined to provide a high quality of life and health to all of its patients.