What To Eat For Optimum Health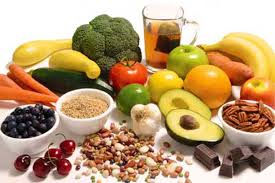 Society is inundated with advice on what to eat for optimum health, weight loss, and disease prevention. And much of that information is contradictory, confusing, or flat-out wrong.
However, scientific research has shown that certain foods promote good health and prevent the onset of disease, according to Dr. Christopher Smith, UCF Health's specialist in family and integrative medicine. Before getting into specifics, here is Dr. Smith's overall healthy eating guideline:
Choose a variety of simple, natural, unprocessed foods. If food labels contains words that aren't foods – and don't even sound like English – avoid these items. Stick with foods that are as close to their natural state as possible. Heavily processed foods contain additives, preservatives, salts and other ingredients that have been linked to a variety of diseases.
The healthiest foods are nutritional powerhouses that contain a variety of vitamins, minerals and compounds that help fight disease. Here are some examples:
* Fruits and vegetables (preferably organic). Foods from plants provide many health benefits. They're packed with vitamins, naturally occurring antioxidants, and are generally low in calories. You can improve your health by adding a variety of fruits and vegetables to each meal. Choose organic if possible because certified organic growers do not use chemical pesticides, which can be dangerous to health. The Environmental Working Group http://www.ewg.org/ is a good source of pesticide information.
* Seafood and other healthy proteins. Wild caught Alaskan salmon, sardines, black cod and herring contain heart-healthy omega 3 fatty acids. Wild caught salmon can be pricey, but the cost is well worth the health benefit. Other healthy proteins include skinless poultry, omega-3 fortified eggs, high quality cheese and whole yogurt.
* Beans. Speaking of meat, beans are an excellent source of protein but with the added bonus of providing fiber, vitamins and minerals. Swap beans for meat in salads, wraps, soups and casseroles. If you use canned beans for convenience, get the unsalted varieties.
* Whole grains. Whole grains like barley, brown, wild and jasmine rice, quinoa and steel cut oats have the fiber capsules of the plants intact, which prevents rapid blood sugar spikes that lead to obesity, diabetes and other metabolic syndromes.  Processed products such as white bread, wheat bread and white rice should be avoided if possible.
* Tea. Green, white and Oolong teas contain many antioxidants that aid overall health.
* Whole soy products. Foods like edamame, tofu, tempeh and soy milk contain isoflavones, which have antioxidant and anticancer properties.  People should stay away from processed soy products such as soy meat substitutes and soy protein shakes as these contain high amounts of estrogen-like molecules that could promote the growth and development of certain types of cancers.
* Dark chocolate and red wine – in moderation. As a treat, dark chocolate – that's at least 70 percent pure cocoa – and red wine (1 or 2 glasses) provide antioxidant benefits. But limit your consumption. If you believe you may be susceptible to alcohol addiction, it's better to avoid alcohol entirely.
Dr. Smith is presenting a healthy eating seminar this Wednesday, September 23, at UCF Health's Medical City location — 9975 Tavistock Lakes Blvd., Orlando, 32827, from 6 to 7:30 p.m. The event is free but you must sign up and there are still tickets available. Go to http://bit.ly/UCFHealthEat to sign up.
Weekly Health Tips are brought to you by UCF Health, the College of Medicine's physician practice. Offering primary and specialty care under one roof, UCF Health treats patients age 16 and up and accepts most major insurance plans. Two locations are now open: the original in East Orlando at Quadrangle and University boulevards just blocks from the main UCF campus, and the newest one in Medical City at Narcoossee Road and Tavistock Lakes Boulevard. Information for both facilities can be found at UCFHealth.com, or call (407) 266-DOCS to schedule an appointment.
Post Tags