Tell Me Something Good – The Benefits of Gratitude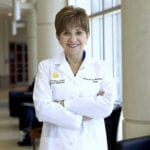 In this last COVID-19 health tip before the holidays, we're addressing gratitude – an approach to life that helps improve your mental outlook, especially during challenging times. Medical research also shows that grateful, thankful people are better in protecting their physical health and in dealing with healthcare challenges. For advice on how to practice gratitude, we turn to Dr. Katherine Daly, a licensed psychologist who leads wellness efforts at the UCF College of Medicine.
In challenging times or when you're under stress, its easy to get caught up in negativity, to pile one challenge on top of another and focus on all of your problems. Expressing gratitude – stopping to think about what's positive in your life – is a proven part of cognitive behavioral therapy. Asking yourself, "Tell me something good" actually causes you to change your outlook. It shifts the focus of your thinking.
How do you start being grateful? Think about the times in the day when you need an emotional boost. Do you wake up crabby? At the end of the day, are you discouraged or frustrated by work? During those times, stop and take a minute. Write down in a journal three things for which you are grateful. A lifelong friend. A wonderful teacher. Your home. A pet. The fact that you have a job. A special skill or talent you have. A hobby you enjoy. Your parents, your children, your grandchildren. As you write, think about each of those blessings and focus on why they are a gift in your life.
Another idea – Get a large jar or basket in a color or design you love. Make it a piece that gives you joy. At the end of each day, take a small piece of paper and write on it something for which you are grateful. Fold the paper and place it in the container. At the end of the month, you'll have at least 30 blessings in your jar. If you come up with more in a day, write them down and drop them in. By year's end, you'll have 365 – at a minimum. On tough days, reach into the jar or basket and pull out one of your blessings. It will change your outlook.
Spending time in nature and practicing mindfulness are other opportunities to focus on gratitude. Get out in the sun. Enjoy a cup of morning tea or coffee on your patio or porch. Listen to the birds, the breeze, the silence. Focus on the things for which you are grateful. Do the same thing during your meditations or mindfulness exercises. Be in the moment, don't focus on the past or future. And as you enjoy the moment, think about your blessings.
It's been a year of challenges, fears and uncertainty, and the holidays can add stress and isolation for many of us. If you are feeling desperate, reach out. Don't struggle alone. Counselors are offering telehealth appointments. If you're stuck in a rut of negative thinking that's focused on what's wrong in the world and your life, take a moment. Stop. Ask yourself, "Tell me something good," and count your blessings.
Post Tags
covid

health tip

positivity