Ways To Deal With Bullying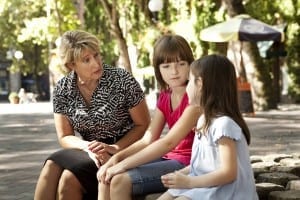 Bullying is widespread in the United States, so much so that the CDC reports that 20 percent of high school students recently reported being bullied at school within the past year. And with social media and cell phones such a big part of daily life for kids, bullying unfortunately isn't limited to the school bus, hallways or playgrounds.
Research suggests a number of factors can increase the risk that a young person will engage in bullying or be a victim. Poor self-control, harsh parenting at home, and attitudes that accept and condone violence can lead to bullying behavior. Children who have difficulties making friends, are perceived by other children as different or quiet, or those with low self-esteem can be more susceptible to being picked on physically, verbally or through social media.
The American Academy of Pediatrics and other children's health groups make the following recommendations for parents whose child is being bullied:
* Help your child learn not to react to a bully. Encourage your child to stay calm and just walk away. Becoming visibly upset actually can encourage the bullying behavior, experts say.
* If ignoring the bully doesn't work, encourage your child to speak firmly to the bully. Suggest your child stand tall, look the bully in the eye and say loudly and firmly something like, "Stop doing that now. If you keep on bothering me, I'm going to report you to … (the principal, teacher or another nearby adult." You may need to help your child practice this firm, assertive approach.
* Make sure your child tells an adult about the bullying as soon as possible. Talk to your child's teacher, school counselor or principal if the bullying continues. But resist the urge to confront the bully or his or her parents yourself.
* Encourage your child to form strong friendships. Research shows that children with loyal friends are less likely to be bullied. And encourage your child to speak up to and tell a bully to stop if they see a friend being victimized.
Looking for more information? Visit
Weekly Health Tips are brought to you by UCF Health, the College of Medicine's physician practice. Offering primary and specialty care under one roof, UCF Health treats patients age 16 and up and accepts most major insurance plans. Two locations are now open: the original in East Orlando at Quadrangle and University boulevards just blocks from the main UCF campus, and the newest one in Medical City at Narcoossee Road and Tavistock Lakes Boulevard. Information for both facilities can be found at UCFHealth.com, or call (407) 266-DOCS to schedule an appointment.
Post Tags