Want A Healthier Workplace? Hold A Walking Meeting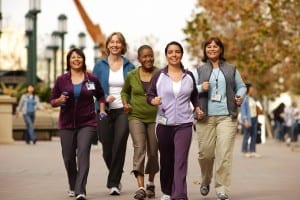 Americans generally spend more time at work than we do at home, so having a healthy workplace is critical for overall wellness.
We can hear you saying you don't have time to fit exercise into your workday. But there are simple ways to use your workplace for mini workouts. One idea: schedule a walking meeting.
Instead of sitting across from colleagues in a conference room, get moving. Sure, it's rainy and stifling outside now, but once the weather cools, it's great to walk outside in Florida. And even in the summer, you can hold a walking meeting in your office building. Walk the halls and don't forget to use the stairs.
Getting your blood moving and changing your environment can spur creativity. And who knows? You just might run into a colleague who can help you with your project.
Dr. Stan Haimes is an occupational health specialist at UCF Health, the College of Medicine practice, and works with employers and employees to make their work lives healthier. He and other UCF Health physicians will be featured in upcoming issues of Central Florida's Lifestyle Magazine as they suggest ways to get moving for improved health.
Weekly Health Tips are brought to you by UCF Health, the College of Medicine's physician practice. Offering primary and specialty care under one roof, UCF Health treats patients age 16 and up and accepts most major insurance plans. Two locations are now open: the original in East Orlando at Quadrangle and University boulevards just blocks from the main UCF campus, and the newest one in Medical City at Narcoossee Road and Tavistock Lakes Boulevard. Information for both facilities can be found at UCFHealth.com, or call (407) 266-DOCS to schedule an appointment.
Post Tags