5 Signs You May Have Cataract
A common issue faced during the aging process is a gradual decline of vision, which is often due to clouding of the lens inside the eye, known as cataract. This lens is the same one that starts to stiffen in your 40s, requiring bifocals due to worsening near vision. Although symptoms of cataract may be minimal at first, as time passes, it can greatly impact your vision if not addressed.
Since the change is gradual and mostly affects older adults, these symptoms are usually dismissed by many patients as just another symptom of growing older. However, cataract is the leading cause of blindness in the world, so even the mildest of symptoms should be checked out.  Surgery can be done to remove the cataract and usually takes less than 15 minutes and the outcomes are excellent. Cataract generally occurs in both eyes, but sometimes one eye seems to be more affected than the other. Here are some things to look for that may indicate you have cataract:
Symptoms That Can Point To Cataract
Extreme light sensitivity
If you find yourself struggling to drive in the dark because of blinding glares from oncoming headlights, you may have cataract. Other types of cataract can actually make daytime driving more challenging as well.  Sensitivity to light is one of the earliest signs of cataracts and can hinder your lifestyle by making it difficult to see at night or in settings with harsh lighting.
Cloudy or decreased vision
Cloudiness in your vision may go unnoticed at first, especially if it's not directly over the pupil. However, as the cataract grows, the cloudiness can spread over the entire lens of the eye, greatly impacting the ability for you to see clearly. Have you ever put on a pair of foggy glasses? This is what vision can become with cataract if not treated.
Severe cloudiness can be very dangerous when walking or driving and detrimental to your eyesight, so you should visit your ophthalmologist as soon as you notice any fogginess or cloudiness in your vision.
Double vision
Seeing double? Although double vision can indicate other health problems, such as diabetes, it can also be a sign of cataract.
Double vision, also known as diplopia, can present as a repeated image of something within one eye, even when the other eye is closed. If you are experiencing this, you should make an appointment to get to the bottom of it before your vision worsens.
Discoloration
Cataract can cause colors to appear faded. If you notice a decrease in the saturation of your surroundings, you could be developing or already have developed cataract. After cataract surgery, many patients state that their color perception is tremendously improved when the yellow/brown cloudiness is removed from their cloudy lens.
Frequent prescription changes for glasses
Frequently changing the prescription of your glasses can indicate that you have cataract. Many think that strengthening prescriptions with age is normal, but if it is happening rapidly, there's a good chance that cataract is evolving.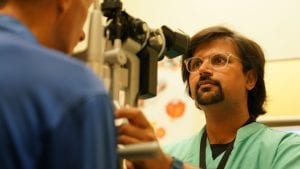 If you are experiencing any of these symptoms, it's wise to schedule an appointment with your eye doctor to address vision changes. Cataract can be treated, often in less than 15 minutes, and you don't want to miss out on life's precious moments because of blurry vision, nor do you want to hurt yourself from a fall or accident because your vision is not as good as before.
—
Weekly Health Tips are brought to you by UCF Health, the College of Medicine's physician practice. Offering primary and specialty care under one roof, UCF Health treats patients age 16 and up in primary care and age 18 and up for specialty care. Most major insurance plans are accepted. Two locations are now open: the original in East Orlando at Quadrangle and University boulevards just blocks from the main UCF campus, and the newest one in Medical City at Narcoossee Road and Tavistock Lakes Boulevard. Information for both facilities can be found at UCFHealth.com, or call (407) 266-DOCS to schedule an appointment.
Subscribe to Weekly Health Tips
Get Health Tips from UCF Health in your email each week! Subscribe here.
---
Our Vision Expert
Post Tags