Pumpkins: More Than Just Fall Decor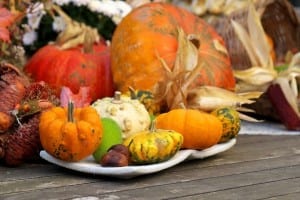 Pumpkins are a mainstay of fall decorating, but they're also a great health food. So while you're carving them into ghoulish faces for Halloween, think about adding this nutritionally dense food to your meal plan.
These orange plants are one of the best sources of beta-carotene and antioxidants. In addition, one cup of cooked pumpkin provides over 100 percent of your daily dose of Vitamin A and 20 percent of vitamin C. Pumpkin contains fiber, iron, niacin, magnesium and Vitamins E and B-6. It's low in fat, has no cholesterol and contains only 49 calories per cup. With all that nutrition, eating pumpkin can reduce your risks for heart disease, diabetes and certain cancers, can fight high blood pressure and even improve eye and skin health. And a recent study found that the oil in pumpkin seeds inhibited prostate growth.
When buying pumpkin, choose smaller varieties that are sometimes called baking pumpkins. They're sweeter. It's OK to use canned pumpkin but make sure it's 100 percent pure pumpkin. Such cans are usually next – and look like — pumpkin pie filling in the market. The problem is that the pie filling is filled sugars and other non-healthy ingredients. Put pumpkin in your stews and soups. Serve it as a side dish. You can also swap pumpkin for butter or oil in your baking. You'll be removing fat and adding fiber with virtually no difference in taste. Roasted pumpkin seeds make a healthy snack and provide an extra crunch to salads.
Weekly Health Tips are brought to you by UCF Health, the College of Medicine's physician practice. Offering primary and specialty care under one roof, UCF Health treats patients age 16 and up and accepts most major insurance plans. Two locations are now open: the original in East Orlando at Quadrangle and University boulevards just blocks from the main UCF campus, and the newest one in Medical City at Narcoossee Road and Tavistock Lakes Boulevard. Information for both facilities can be found at UCFHealth.com, or call (407) 266-DOCS to schedule an appointment.
Post Tags