Kids, Sleep, Phones and Laptops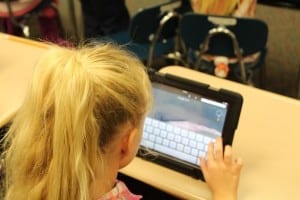 A new study finds that kids who use electronic devices before bedtime can have sleep problems because their smart phones, laptops and tablets lower melatonin, a hormone that encourages sleep.
The study was conducted by Uni Research Health in Bergen, Norway and surveyed almost 10,000 teens ages 16 to 19 in that country. Between 80 and 90 percent of the teens said they used a cell phone an hour or less before bed, with a similar number saying they'd been on their laptops before trying to catch some ZZZZs. The study found that such young people saw a decrease in their melatonin levels by as much as 37 percent.
The teen years can wreak havoc on sleep for a variety of reasons, including hormone levels, later bedtimes, social activities and media. The recent study says that light from electronic devices may also be a culprit as teens seem to be more sensitive to the disruptive impacts of light. Researchers have said they are unsure whether teens go to their phones and laptops because they can't sleep or whether the social media tools actually cause them not be able to fall asleep.
To avoid sleep problems, the National Sleep Foundation recommends teens avoid eating, drinking, or exercising within a few hours of their bedtime and try to avoid the TV, computer and cell phone the hour before they go to sleep.
Mari Hysing, lead author of the Uni Research Health study, offered this advice to parents. "There is now much evidence, including this study, to suggest that screen time has a direct effect on sleep," Hysing said.  "The most important thing we can do is to keep the night screen free."
Weekly Health Tips are brought to you by UCF Health, the College of Medicine's physician practice. Offering primary and specialty care under one roof, UCF Health treats patients age 16 and up and accepts most major insurance plans. Two locations are now open: the original in East Orlando at Quadrangle and University boulevards just blocks from the main UCF campus, and the newest one in Medical City at Narcoossee Road and Tavistock Lakes Boulevard. Information for both facilities can be found at UCFHealth.com, or call (407) 266-DOCS to schedule an appointment.
Post Tags