Vladimir Neychev, M.D., Ph.D., FACS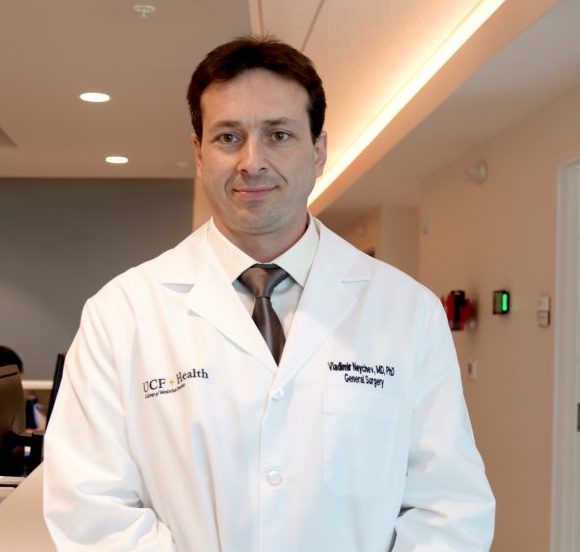 Specialties
Practicing Locations
Languages Spoken
Bulgarian
English
Russian
Serbian
Biography
Dr. Vladimir Neychev is a board-certified general surgeon and an expert in general, endocrine and endocrine cancer surgery. An M.D./Ph.D./FACS, he is a physician scientist who also serves as Professor of Surgery at the University of Central Florida College of Medicine. He has extensive experience in general surgery and advanced minimally invasive laparoscopic surgery techniques and methods. He is fellowship trained in endocrine surgery at the National Cancer Institute, which is part of the National Institutes of Health.
Dr. Neychev is passionate and committed to delivering the highest-quality of care and most beneficial surgical management of the entire spectrum of general surgery conditions.
His areas of expertise include:
Endocrine Surgery Procedures (benign and malignant):
Thyroid Gland Surgery
Parathyroid Gland Surgery
Adrenal Gland Surgery
Neuroendocrine tumors of the pancreas and the digestive system
Paragangliomas
General Surgery Procedures:
Gallbladder
Hernia Repair for inguinal, umbilical and incisional hernias
Benign and malignant tumors in the

Stomach
Gastrointestinal tract
Small Bowel
Colon and Rectal, including diverticulitis

Acid Reflux
Pancreas
Splenectomy
Hemorrhoid disease, fissures and fistulas
Education
Dr. Neychev received his M.D. degree and Ph.D. in Biochemistry at the Medical University in Sofia, Bulgaria. He also completed a fellowship in neurology/neurosurgery at John Hopkins University, and a two-year clinical and research fellowship in endocrine surgical oncology at the National Institutes of Health-National Cancer Institute in Bethesda, MD.
He completed his first residency training in general surgery at the Institute of Emergency Medicine and Intensive Care "I. Pirogov" in Sofia, Bulgaria, as well as general surgery residency at both John Hopkins Hospital and Danbury Hospital, CT affiliated with the University of Vermont College of Medicine.
Background
Dr. Neychev is a highly trained, motivated surgeon with a passion for general, endocrine and endocrine cancer surgery, biochemistry, education and research. He has been teaching biochemistry since 2003 and surgery since 2015 at the Medical University of Sofia, and now at the UCF College of Medicine. What he enjoys most about his job is the ability to provide immediate surgical relief and instantaneous therapeutic results to his patients.
RECENT PUBLICATIONS
Nilubol N, Merkel R, Yang L, Patel D, Reynolds JC, Sadowski SM, Neychev VK, Kebebew E. A phase ii trial of valproic acid in patients with advanced, radioiodine- resistant thyroid cancers of follicular cell origin. Clin Endocrinol [Epub ahead of print], 2016
Neychev VK, Ghanem M, Blackwood SL, Aragon Han P, Fazeli R, Schneider E, Najafian A, Bloch DC, Bard MC, Klarsfeld JH, Zeiger MA, Lipton RJ, Reply to: Letter to the Editor on the article "Parathyroid surgery can be safely performed in a community hospital by experienced parathyroid surgeons: A retrospective cohort study", Int J Surg [Epub ahead of print], 2016
Roloff GW, Yang Z, Wood LV, Neychev V. Colon Cancer Metastasis to the Thyroid Gland: Report of a Case with Unique Molecular Profile. Clin Case Rep, 4: 549-553, 2016
Neychev V, Mitev VI. Pro-sexual and Androgen Enhancing Effects of Tribulus terrestris L.: Fact or Fiction. J Ethnopharmacol, 179: 345-55, 2016
Neychev V, Sadowski SM, Zhu J, Allgaeuer M, Kilian K, Meltzer P, Kebebew E. Neuroendocrine Tumor of the Pancreas as a Unique Manifestation of Cowden Syndrome: a Case Report. J Clin Endocrinol Metab, 101: 353-8, 2016
Neychev V, Ganem M, Blackwood SL, Han PA, Fazeli R, Schneider, Najafian A, Bloch DC, Bard MC, Klarsfeld JH, Zeiger MA, Lipton RJ. Parathyroid Surgery Can be Safely Performed in a Community Hospital by Experienced Parathyroid Surgeons. Int J Surg, 27: 72-76, 2015
Sadowski SM, Neychev V, Millo C, Shih J, Nilubol N, Herscovitch P, Pacak K, Marx S, Kebebew E. A prospective study of 68Gallium-DOTATATE PET/CT for detecting gastro- entero-pancreatic neuroendocrine tumors and unknown primary sites. J Clin Oncol, 34: 588-96, 2016
Sadowski SM, Millo C, Neychev V, Aufforth R, Keutgen X, Glanville J, Alimchandi M, Nilubol N, Herscovitch P, Quezado M, Kebebew E. Feasibility of radioguided surgery with 68Gallium DOTATATE in patients with gastro-entero-pancreatic neuroendocrine tumors. Ann Surg Oncol, 22: 676-82, 2015
Neychev V, Steinberg SM, Cottle-Delisle C, Merkel R, Nilubol N, Yao J, Meltzer P, Pacak K, Marx S, Kebebew E. Mutation-targeted therapy with sunitinib or everolimus in patients with advanced low-grade or intermediate-grade neuroendocrine tumours of the gastrointestinal tract and pancreas with or without cytoreductive surgery: protocol for a phase II clinical trial. BMJ Open, 5: e008248, 2015
Neychev V, Steinberg SM, Yang L, Mehta A, Nilubol N, Keil MF, Nieman L, Stratakis CA, Kebebew E. Long-Term Outcome of Bilateral Laparoscopic Adrenalectomy Measured by Disease-Specific Questionnaire in a Unique Group of Patients with Cushing's Syndrome. Ann Surg Oncol, 22: 699-706, 2015
Neychev V, Straughan D, Pacak K, Kebebew E. Multidisciplinary management of locally advanced and widely metastatic paraganglioma in a patient with life-threatening compressive symptoms. Head Neck, 37: E205-8, 2015
Straughan DM, Neychev VK, Sadowski SM, Ellis RJ, Thomas F, Patronas NJ, Pacak K, Kebebew E, Nilubol N. Preoperative Imaging Features are Associated with Surgical Complications Following Carotid Body Tumor Resection. World J Surg, 39: 2084-9, 2015
Liu-Chittenden Y, Jain M, Kumar P, Patel D, Aufforth R, Neychev V, Sadowksi S, Gara SK, Joshi BH, Cottle-Delisle C, Merkel R, Yang L, Miettinen M, Puri RK, Kebebew E. Phase I trial of systemic Intravenous Infusion of interleukin-13-Pseudomonas exotoxin (IL-13-PE) in patients with metastatic adrenocortical carcinoma. Cancer Med, 4: 1060-8, 2015
Neychev V, Borruso J. Bowel Ischemia and Necrosis in Anorexia Nervosa: A Case Report and Review of the Literature. Int J Surg Case Rep, 8C: 141-3, 2015
Bekdache K, Dietzek A, Cha A, Neychev V. Endovascular hypogastric artery preservation during endovascular aneurysm repair: A review of current techniques and devices. Ann of Vasc Surg, 29: 367-76, 2014
Sadowski SM, Neychev V, Cottle-Delisle C, Merkel R, Yang L, Quezado M, Chang R, Kebebew E. Detection of Insulinoma using 68Gallium DOTATATE PET/CT – Case Report. Gland Surgery, 3: E1-5, 2014