Letting Down Your Guard Can Spread COVID-19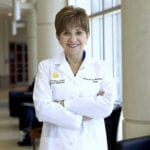 As COVID-19 cases spike, health officials are discovering that many people currently testing positive were infected while they were with people they know – not in work or classroom situations, but in casual social gatherings. That's not surprising. We let down our guards when we're home or out having fun. While it's become natural – and required – for us to wear a mask when we go to the grocery store, mall or class, we may not follow those restrictions at a home party or when we're at a restaurant or bar.
This trend is illustrated at UCF. Our cases spike after weekends. Contact tracing shows that many of these cases occurred after people attended parties, including sporting event watch parties, or went to bars and restaurants. So please remember:
People may have the virus and be contagious days before they become symptomatic. And some people with the virus never feel sick but are still spreading the disease. So you don't know if the friend you invited to your watch party is carrying the virus.The virus spreads in respiratory droplets and as we are exposed to each other's breaths – especially when we are in close proximity and are eating, talking, yelling, singing and cheering. Wearing a mask provides a barrier for these droplets—that's why masks are such an important method of containing the virus. But how many of us wear masks at someone else's home for a party? And we take them off when we eat and drink, but are we putting them back on between snacks?There is no evidence that the virus is spread by food. It's spread by our behavior. As humans, we gather around food at a party. We probably don't maintain 6 feet of separation when we're debating the college football playoffs with friends as we dish up food in the kitchen. And if people are drinking alcohol, they may become less inclined to follow coronavirus safety precautions.
So what can you do? Make safety part of every celebration – including casual ones with your pals. Set up seating so people are separated. Don't have a buffet that encourages people to gather. Have everyone bring their own boxed lunch. Have everyone wear a face covering. Make it fun – have a contest for the most entertaining, creative or outrageous mask. Pull the mask down when you eat or drink something and then pull it back up. Do the same at a restaurant or bar. Have events outside. Or to be safest, have a virtual watch party.
COVID-19 has unfortunately forced us to change the way we live and celebrate. The sooner we can get control over this pandemic, the sooner we can return to normalcy. So please stay safe and remember that the virus is everywhere. Don't let down your guard.
COVID-19 health tips are brought to you by UCF's Academic Health Sciences Center (AHSC), which includes the Colleges of Health Professions and Sciences (CHPS), Medicine, Nursing and Student Health Services.
Post Tags
covid

COVID-19

health tip

spread