Caring for Seniors During COVID-19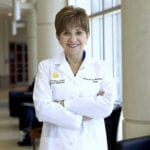 People over age 70 have been especially devastated by COVID-19. What can we do to help and protect our older parents, neighbors, family and friends? This week's health tip is from College of Nursing faculty member Dr. Jacqueline LaManna, who specializes in geriatric primary care.
It's important to remember that social distancing has caused many seniors to live in an isolated world of fear. Those of us with senior parents aren't able to visit. We aren't going to religious services together or gathering for meals. Many senior activity centers and gyms are closed. We know that many seniors are afraid to go to their health provider's office for routine care or checkups – afraid they will be exposed to people with the virus. Some are even choosing not to seek emergency care for chest pain, diabetes or stroke for fear of being exposed to COVID-19 or being hospitalized alone with no visitors. Given this, how can family members and friends respond?
1. Find ways to "keep an eye" on your senior. Drive by the house and talk to your parents/grandparents/senior friends as they stand in the driveway or on the porch. Drop off a meal and leave it on a table outside in the yard. Use FaceTime. How are they acting? Do they seem depressed? Confusion or change of mental status is often the first sign of any infection in seniors – including COVID-19 — and always requires evaluation. If something seems off, dig deeper.
2. Even a simple phone conversation can provide clues on how a senior adult is doing in terms of cognitive function and memory. Ask questions beyond, "How are you doing?" Ask if they're stressed or anxious about anything. Ask what specific actions you can do to help. Seniors may be focused on 24-hour channels with non-stop stories about COVID-19. Urge them to stay informed but not spend hours in front of the TV. Empower them with factual information on the virus and help them understand the steps they can take to protect themselves.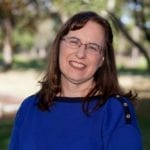 3. Make sure they are getting appropriate medical care, that they continue to go to their health provider for chronic conditions and health screenings. Remind them that clinics are taking precautions to protect them from exposure to COVID-19. Be sure they are getting their prescriptions and other medical equipment delivered and that they are taking those therapies.
4. Watch for signs they may have COVID-19. Older adults don't always have a fever response to infection so don't assume that's the first symptom to consider. Many seniors have reported a sore throat and loss of smell as their first sign of COVID-19. If they have possible symptoms, schedule a telehealth visit with their physician – these are now covered by Medicare. Don't just show up to the clinic or the emergency room.
5. Urge seniors to stay active and engaged. Suggest an early-morning walk before it gets too hot for older adults who are not at risk for falls. YouTube has chair aerobics classes. Help your senior set up a social media exercise or book club. Technology can provide connection during social isolation.
6. Remember the caregivers. There are 53 million caregivers in the United States taking care of seniors and children with disabilities. The average caregiver is a 49-year-old female who is likely juggling work with providing care to a loved one. These folks are feeling even more stress now amidst their fear of COVID-19 and with schools, senior centers and other respite programs closed. Offer support. Make a friendly phone call. Drop off a meal. Volunteer to do grocery shopping.
The adage that "it takes a village" applies to all of us as we deal with COVID-19. Working together we can provide the best care to each other, especially our seniors.
COVID-19 health tips are brought to you by UCF's Academic Health Sciences Center (AHSC), which includes the Colleges of Health Professions and Sciences (CHPS), Medicine, Nursing and Student Health Services.
Post Tags
Coronavirus

covid

COVID-19

health tip

senior health

seriors