Care About COVID-19 and Your Health? Then Vote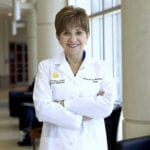 Whatever our political opinions, we share one common view about medicine: Each one of us wants to stay healthy and wants access to a trained, knowledgeable and kind healthcare provider when we get sick.
The COVID-19 pandemic has shown us that medicine is not just a personal issue or choice. Elected officials also play a role in our health. That's why it's more important now more than ever before that we each exercise our right – and our responsibility – to vote.
In the last seven months, as our community, nation and world have battled this pandemic, consider the influence that elected officials at every level of government have had. They influence whether we must wear masks in public, whether schools, bars, restaurants and beaches are open or closed, how testing centers are set up in communities and whether manufacturers will go from making cars to hospital equipment. Elected officials also play important roles in the effectiveness of health agencies and our clinical and economic responses to the pandemic.
This pandemic has also brought into clear focus the health disparities that plague our nation and how socioeconomic status, access to healthcare, health literacy and neighborhood safety play a role in whether we are healthy and also influence COVID-19 survival. Elected officials play an important role in addressing many of these issues, called the social determinants of health. They are also responsible for keeping our economy afloat.
So with voting underway and Election Day approaching, please be sure to vote. Regardless of your political party, in this democracy we are at our best when the majority chooses our elected officials.  COVID-19 and its effect on our health and our economy have taught us that the stakes are high.
COVID-19 health tips are brought to you by UCF's Academic Health Sciences Center (AHSC), which includes the Colleges of Health Professions and Sciences (CHPS), Medicine, Nursing and Student Health Services. 
Post Tags