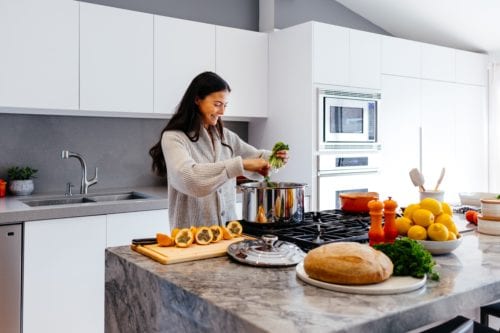 What is plant-based?
Before we discuss plant-based medicine, it's important to understand what plant-based means. It doesn't mean strictly paleo, gluten-free, or another popular diet that can, at times, be difficult to follow. In fact, it's a straightforward, health-conscious way of thinking about food and nourishment.
Often referred to as plant-forward eating, the objective of this intentional lifestyle change works to incorporate more, or mostly, plants into your diet. The thought being that natural foods with minimal or no processing can help heal many of ones ailments and can be used as a lifestyle medicine.
Like anything, there are different iterations of plant-based diets. A complete, all-encompassing plant-based diet means consumption of no animal products, including eggs, butter, gelatin, and milk-based items. Other tiers of plant-based eating involve eating a higher proportion of plants than other food items. Still other iterations involve focusing on consuming whole food, rather than processed goods.
Plant-based foods include vegetables, fruits, legumes, oils, seeds, whole grains, and beans. With just these items, a wide variety of meals can be created to provide nourishment. Think of a typical Mediterranian dish – olives, chickpeas, lentils, citrus, olive oil, fresh fruits, tomatoes, and plenty of fresh herbs. Much of this diet is plant-based without even trying. While many recipes include fatty fish and the occasional dollop of yogurt, plant-based eating doesn't have to feel restrictive as it includes a wide range of foods straight from the earth.
Depending on your health needs, dietary issues, and medical history, a specific iteration of plant-based eating could help improve quality of life. The focus on whole food and plant-based is a sure fire way to eliminate foods that are inherently bad for the body and focus on overall wellness.
Section 1 -Is treatment of ailments different when you live a plant-based life?
Those living a plant-based lifestyle and suffering from certain ailments may receive different treatment that fit better with their dietary decisions. Time after time, science has backed plant-based nutrition and ample research shows the switch from consumption of fatty foods, meats, and processed sugar to whole grains, vegetables, and fruits has lowered blood pressure, aided in weight loss, and reduced the risk for heart disease, stroke, and diabetes.
When prescribing medicine, a health care professional will want to ensure that said medicine is void of animal products. They also may consider approaching the issues with diet changes, incorporation of supplements, or a vitamin regimen. While plant-based diets are inherently healthy, they may leave the practitioner void of certain key nutrients, like iron, B12, calcium, iron, and zinc.
Section 2 – Why should you consider going to a plant-based doctor?
A plant-based doctor is more adept at diagnosing and treating issues using food as medicine in a well-rounded health care treatment plan. They may be more aware of issues related to a lack of nutrients or vitamin deficits and can help a patient adjust accordingly. Instead of treating a symptom with a prescription drug, they may try to tweak what one is consuming.
For example, someone who is experiencing a loss of appetite, wounds that are slow to heal, a lack of alertness, and fatigue, may be experiencing a zinc deficiency. A plant-based doctor could inquire as to what types of foods you're eating and quickly identify that you are not getting enough legumes, beans, or whole grains.
A plant-based doctor is not better or worse than any other physician or nurse practitioner. They simply approach treatment of patients in different ways. Some individuals may be unable to follow a plant-based diet due to lack of access to fresh produce, allergies, or lifestyle. A traditional physical may be a better bet for their preventive and routine care.
Section 3 – How can you find a plant-based doctor? How can UCF help?
Floridians are in a great situation to adopt a plant-based lifestyle. Ample sunshine and warm temps mean a variety of fresh produce, year-round. They also have access to fertile soil and four season farming.
Sunshine state residents can find a plant-based doctor among UCF Health's top physicians. We prioritize well-rounded medical care and don't believe in a one-size-fits-all approach. UCF Health employs a dedicated team of internal medicine doctors, plant-based doctors, nurse practitioners, cardiologists, and other medical staff who are ready to offer information, resources, and assistance to provide you with optimal health care. Convenient, online scheduling and our patient portal give you easy access to the health care you need.