UCF Health, the College of Medicine physician practice, and Florida Hospital on Wednesday unveiled an innovative and collaborative model of health care that brings a range of new providers and services to Medical City.
This partnership – at the Gateway Building at the entrance of Lake Nona — allows patients to have convenient access at a single location to UCF Health and Florida Hospital's physicians, imaging center, laboratory services, and rehabilitation program. At the same time, patients can also tap into the academic strength of the UCF College of Medicine's practice, where all doctors are faculty physicians at the medical school.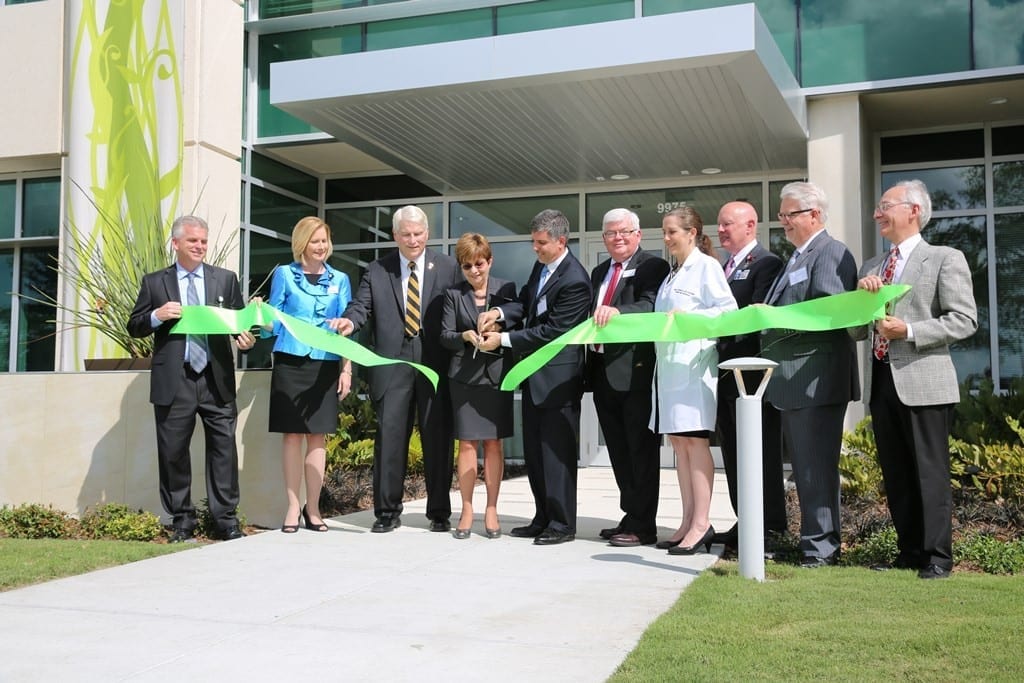 UCF Health is already open and seeing patients. Florida Hospital opens April 20.
In announcing the partnership at Wednesday's ribbon-cutting event, Dr. Deborah German, vice president for medical affairs and dean of the College of Medicine, said the collaboration of two independent healthcare entities creates a "unique opportunity to provide patient-centered and seamless care to patients."
For example, as soon as patients walk in the building, they are greeted by a patient navigator who directs them to the proper location. Medical records and treatment plans are securely shared between UCF Health and Florida Hospital physicians through a collaborative Health IT system. With primary and specialty care and diagnostics under one roof, Dr. German called the new Gateway facility "one-stop shopping for patients."
As he introduced the event, Thad Seymour, president of the Lake Nona Institute and senior vice president of Tavistock Development Company, which is developing Lake Nona, said the new collaborative health center fits perfectly into the mission of the community. Lake Nona's vision, he said is to be "an ideal place that inspires human potential through innovative collaboration."
UCF's College of Medicine has helped lead that innovation at Lake Nona, with a 21st century medical school that features state-of-the-art labs and classrooms and a new curriculum that integrates basic and clinical sciences from a student's first year. Many UCF faculty physicians also are researching new and better treatments for disease, something the collaboration with Florida Hospital will encourage. The Lake Nona location is the second for UCF Health, which opened its first center in 2011 on University Boulevard just blocks from the main UCF campus.
"As UCF physicians, scientists and teachers, we are building a medical school that is this century's best. We're discovering innovative solutions to today's medical challenges. And at UCF Health, we're committed to bringing these advancement to patients," said Dr. German. "We are expanding our multispecialty practice to serve more people across our community and are excited to bring needed out-patient care to our Lake Nona neighbors."
Brian Paradis, chief operating officer for Florida Hospital, said a collaborative facility dedicated to seamless patient care is consistent with Florida Hospital's "Connected Care" mission – "the foundation for creating the optimum patient experience by providing convenient, coordinated, comprehensive care."
"To us, healthcare is more than just a single episode of care," he added. "It's creating lifelong relationships with each patient."
The new UCF Health-Florida Hospital center is located at Tavistock Lakes Boulevard and Narcoossee Road at the entrance to Medical City. The center is accepting new patients, and most major insurance plans are accepted.
Post Tags