Mehul Patel, M.D., M.Sc.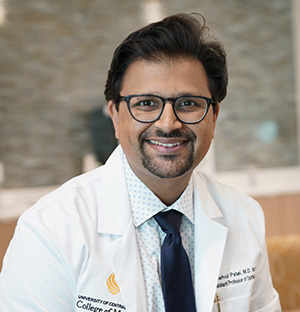 Specialty
Practicing Location
Biography
Dr. Mehul Patel is a board certified ophthalmologist and refractive cataract surgeon who evaluates and manages eye diseases both medically and surgically. He specializes in refractive cataract surgery and minimally invasive glaucoma surgery. He understands the delicacy and complexity of the eye as well as the importance of having good vision for as long as possible.
Education
Dr. Patel received his M.D. from the University of North Carolina at Chapel Hill School of Medicine. He then completed his ophthalmology residency at Howard University Hospital's Department of Ophthalmology in Washington, D.C. He has also earned a master's degree in Global Health from the University of Oxford and spent one year conducting ophthalmic public health research in Hong Kong.
Background
Dr. Patel has a passion for cataract surgery and optimizing vision. He is thorough and strives to make sure that the patient is very well informed about their diagnoses and options when it comes to surgery. His research interests focus on optimizing refractive outcomes for patients undergoing cataract surgery. Dr. Patel speaks Gujarati and Hindi and is actively involved in mission work, having spent time providing medical and ophthalmic care in several countries including East Timor, India and Haiti.
No information specified.