Marcy L. Verduin, M.D.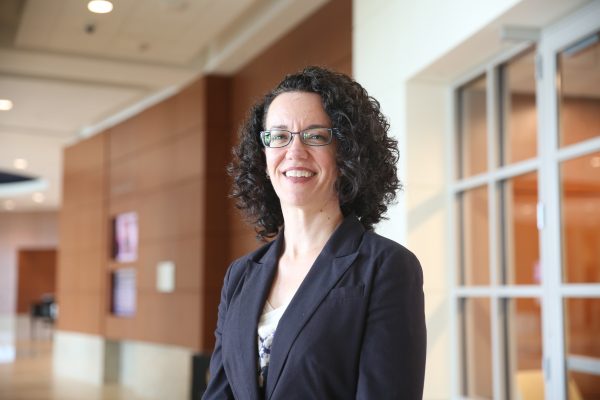 Specialty
Practicing Location
Biography
Dr. Verduin is currently only seeing referrals from UCF Health primary care physicians.
Dr. Verduin is the Associate Dean for Students and a Professor of Psychiatry at the University of Central Florida College of Medicine. She is board-certified in Adult Psychiatry with added qualifications in Addictions and has extensive experience with undergraduate and graduate medical education, research and clinical practice.
Education
Dr. Verduin received her bachelor's degree in chemistry from the New College of Florida and her M.D. degree from the University of Florida College of Medicine. She then completed a psychiatric residency at the Medical University of South Carolina, where she later became a chief resident. She also completed her post-doctoral fellowship at the Medical University of South Carolina, which was funded by the National Institute on Drug Abuse, as well as an addiction psychiatry fellowship.
Background
In 2007, Dr. Verduin became the first psychiatry faculty member at UCF's new medical school, where she played an integral role in the development of the curriculum across the four-year educational program. In 2010, she moved into the role of Associate Dean for Students, overseeing the areas of Admissions, Student Academic Support, Student Financial Services, Student Records, Student Services, and Student Wellness. She serves as Second Vice President of the American College of Psychiatrists, Vice Chair of the American Board of Psychiatry and Neurology's Article Based Continuing Certification Committee for Addiction Psychiatry, the Book Editor for the Journal of Psychiatric Practice, and as an ad hoc reviewer for psychiatric, education, and addictions journals.
Dr. Verduin has served as the principal investigator or a co-investigator on several clinical and human laboratory trials, including a Career Development (K23) Award through the National Institute on Drug Abuse. Her clinical work is based at UCF Health, where she provides consultative services on an outpatient basis. She previously served as President of the Association for Academic Psychiatry, and she is currently serving as the Vice Chair of the Association of American Medical College's Group on Student Affairs.
Publications
For a complete list of publications, please click here.
Hernandez C, Daly K, Mehta A, Verduin M.  A pilot study examining biofeedback and structured napping to promote medical student wellbeing.  AMEE MedEdPublish, 2019.  DOI:  https://doi.org/10.15694/mep.2019.000110.1
Green EP, Dallaghan GL, O'Hearn DJ, Verduin ML, Zehle CH.  Establishing fair and ethical medical student promotions committees.  Med Sci Educ 2018;28:561-7.
Cendan JC, Castiglioni A, Johnson TR, Eakins M, Verduin ML, Asmar A, Metcalf D, Hernandez C.  Quantitative and qualitative analysis of the impact of adoption of a mobile application for the assessment of professionalism in medical trainees.  Acad Med 2017;92:S33-S42.
Verduin ML. Improving the recruitment of medical students into psychiatry. Acad Psychiatry 2017;41(2):207-12.
Verduin ML.  Commentary on 2 cases of takotsubo cardiomyopathy involving psychotropic medication.  J Psychiatr Pract, 2016;22(3):239-40.
Dube B, Verduin M.  A brief examination of integrated care in undergraduate medical education.  Acad Psychiatry 2015;39(4):457-60.
Verduin M, Balon R, Coverdale J, Louie A, Beresin E, Roberts L.  The rising cost of medical education and its significance for (not only) psychiatry.  Acad Psychiatry 2014;38(3):305-8.
Verduin ML.  Design and implementation of a novel behavioral sciences course for first year medical students.  Acad Psychiatry 2014;38(1):96-9.
Verduin M, Boland RJ, Guthrie TM.  New directions in medical education related to psychiatry.  Int Rev Psychiatry 2013;25(3):338-46.
Verduin ML, LaRowe SD, Myrick H, Cannon-Bowers J, Bowers C. Computer simulation games as an adjunct for treatment in male veterans with alcohol use disorder.  Journal of Substance Abuse Treatment 2013;44:316-22.
Bowers C, Procci K, Joyce R, Verduin M, LaRowe S, Cannon-Bowers JA, Smith, P. Serious games for therapy: a training perspective.  Journal of Cybertherapy and Rehabilitation 2011;4(4):447.